Julian Edelman Super Bowl Catch: Watch Patriots Receiver Make Incredible Reception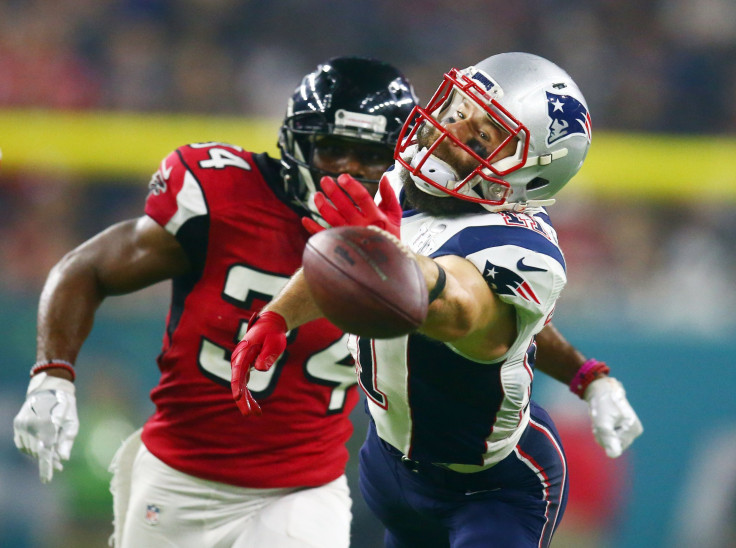 New England Patriots receiver Julian Edelman wasn't having the best Super Bowl LI but may have made up for his lackluster play with one of the most incredible catches in the championship game's history. Down 28-20 against the Atlanta Falcons just before the two-minute warning, Patriots quarterback Tom Brady fired to the middle of the field where Edelman was covered by two Falcons defenders, including cornerback Robert Alford.
Edelman's catch extended New England's drive and allowed it tie the game and force overtime, where running back James White rushed for the game-winning score and the Patriots fifth all-time Super Bowl title.
Edelman lunged for the ball in the air for Alford, who still managed to get a hand on it and nearly his second interception of the game, but Brady's favorite receiver reached out and fell to the ground to make the catch. Replays confirmed Edelman caught the ball just inches before it hit the ground, which will likely garner comparisons to New York Giants receiver David Tyree and his helmet catch against the Patriots that helped win the Super Bowl in 2009.
The catch helped New England extend its drive and stay in a game that saw Atlanta lead 28-3 at halftime. Minutes later, running back James White punched the ball into the end zone and cut the Falcons lead to 28-26 and the Patriots made the two-point conversion with Brady hitting receiver Danny Amendola to tie the game at 28.
The game then went into overtime, the first time any Super Bowl has ever needed an extra quarter to decide the NFL's championship. The only previous time an NFL title game went to overtime was well before the Super Bowl era. It was the 1958 championship game between the New York Giants and Baltimore Colts.
Check out the catch below.
Here's also a still of the catch, and it appears that Alford got a foot on the ball to keep it alive for an interception that would end the game, but it allowed Edelman more time to make the catch.
© Copyright IBTimes 2023. All rights reserved.