K2 60 Years Later: Pakistani Team Reaches Summit Of Second-Tallest Mountain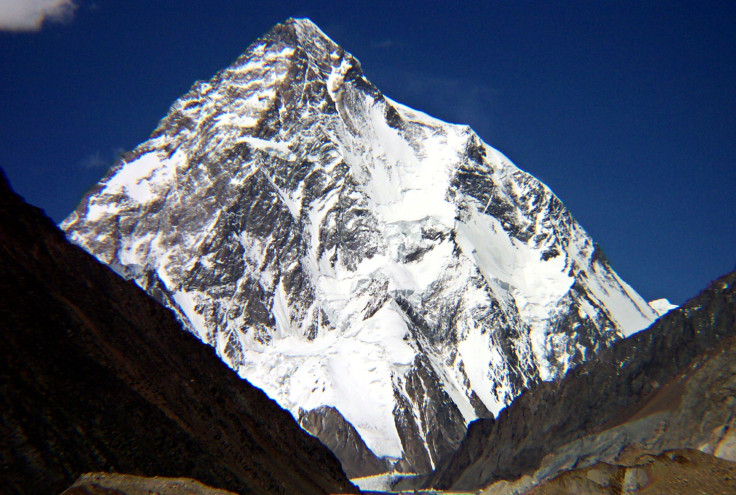 To celebrate the 60th anniversary of the first successful ascent of K2, the second tallest mountain in the world, located in Pakistan, a team of Pakistani climbers and three Italians, reached the summit at 22:30 GMT on Friday, reports BBC.
The Pakistani climbers, identified as Hassan Jan, Ali Durani, Rahmat Ullah Baig, Ghulam Mehdi, and Ali and Muhammad Sadiq, were part of the "K2 60 Years Later" expedition, and became the first Pakistani team to reach the summit. Italians Achille Compagnoni and Lino Lacedelli made the first successful ascent of K2 on July 31, 1954. K2's peak elevation is 8,611 meters, around 28,251 feet, and the mountain is considered to be more difficult than Mount Everest, the world's tallest mountain.
The expedition was organized by EvK2Cnr Association and included science and environmental research, such as installing a climate monitoring station at the Baltoro Glacier in the Karakoram mountain range, reports Montagna.tv. The team left from Skardu, the capital of Skardu District in Gilgit–Baltistan, Pakistan, on June 14. Agostino Da Polenza, who led three K2 expeditions, will help the team from base camp and said of the climbers, "Last year I met the Pakistani team at Broad Peak Base Camp. Receiving my compliments the Pakistani mountaineers told me their dream to climb K2 and asked for help. I was glad to help them," reports Montagna.tv.
Although several Pakistani climbers have reached the K2 summit, this is the first team to accomplish the feat, notes the BBC. Tamara Lunger, Klaus Gruber Michael Cuhcchi and Radek Jaros reached the summit shortly after the Pakistani team. The push for the summit began during the night, with Lunger saying on her blog after reaching camp 4, just below the bottleneck of K2 "We've carried as little as possible and 'just' did 500 meters of altitude today, but our goal was to save our energies as tonight we'll head for the summit. We're a group of 30 people, 6 women beyond us, but just a few will try the summit without oxygen."
A video of Ali Durani radioing to base camp from the K2 summit can be viewed here.
© Copyright IBTimes 2023. All rights reserved.