Kansas Immigration Law Would Authorize Illegal Workers, Bucking National Trend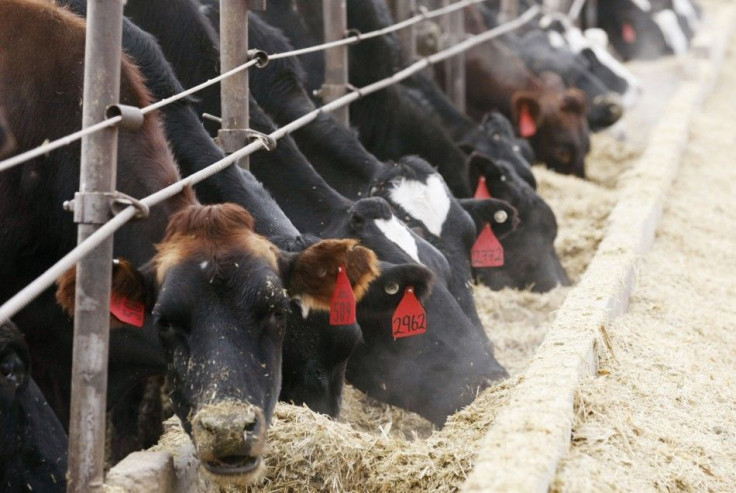 Undocumented immigrants have faced rising antagonism in Republican states like Arizona and Alabama, but a coalition of business and agricultural groups in Kansas has a different message: we need you.
Following the lead of Arizona's controversial new immigration law, other states have passed tough measures intended in part to discourage illegal immigration by making it prohibitively difficult for immigrants to find work. Mitt Romney produced a symphony of scoffs when he described his immigration policy of self-deportation, but he was articulating the same basic philosophy.
But those crackdowns have wreaked havoc on states' agriculture industries. Farmers in Georgia and Alabama have been unable to harvest their crops because of a lack of the immigrant workers they had come to rely upon. Some are planning to scale back the amount of crops they plant to accommodate the diminished labor pool.
They had no idea of the unintended consequences, Alabama Agriculture Commissioner John McMillan said of the state legislators who pushed for the law, adding that he had witnessed crops rotting in the field.
Kansas: A New Approach to Immigration Issue
Representatives of Kansas' agriculture industry are taking the opposite approach. With the backing of Kansas Agriculture Secretary Dale Rodman, an influential coalition of business interests is pushing to create a state-sponsored program that would allow businesses with a proven labor shortage to recruit undocumented immigrants.
We feel it's a pro-business, pro-economy, pro-Kansas strategy to address the immigration issue in the western half of the state, said Eric Stafford, senior director of government affairs for the Kansas Chamber of Commerce. The alternative options that are out there are the Alabama, Georgia or Arizona style law enforcement provision, and we've seen the economic impact those types of laws have had on their states.
A draft of the legislation stipulates that undocumented immigrants who have clean criminal records and have lived in Kansas for at least five years would be eligible to work for businesses that the governor certifies as having labor shortages. States do not have the authority to grant immigrants legal status, so Kansas would ask the federal government to grant qualified immigrants work authorization rather than detaining or deporting them.
Program Seen Aiding Critical Livestock Industry
The program would be a boon to the feedlots and meat processing and packing plants concentrated in sparsely populated western Kansas. The livestock industry is critical to Kansas' economy, supporting related sectors like the grain and trucking industries, but businesses have struggled to find enough people willing to undertake the often grueling physical labor.
Your desire is to have as much available labor as you can get, which means don't impede the labor market by closing an available supply channel such as immigrant labor, said Ted Schroeder, a professor of agricultural economics at Kansas State University. The biggest opportunity for us is those who will come from outside out borders.
Because they pay comparatively well and do not require pre-existing skills or English proficiency, Kansas' meat plants have long been a magnet for immigrant labor, according to Donald Stull, a professor of anthropology at the University of Kansas who has studied the issue for decades. Companies began turning to refugees from Myanmar and Somalia when immigration enforcement stiffened after Sept. 11, 2001, but Stull said there is still a large number of undocumented workers.
There have historically been a significant number of unauthorized workers in the meat and poultry industry, Stull said. Nobody can really give you concrete figure on what percentage, but there's no doubt that it's a significant segment of the workforce.
Is Measure Amnesty for Immigrants?
The bill will likely find a steadfast opponent in Kansas Secretary of State Kris Kobach, who helped draft the immigration laws in Arizona and Alabama. Kobach denounced the measure as an amnesty for immigrants who had entered the country illegally and called it a political impossibility. A spokeswoman for Gov. Sam Brownback said he would not support the program.
Proponents counter that the program would draw on a population that has already put down roots in Kansas. Unlike in Alabama or Georgia, where seasonal harvesting attracts many itinerant immigrant laborers, feedlots and packing plants function year round. By only encompassing immigrants who have been in Kansas for five or more years, the proposal targets a population that wants to remain in Kansas, said Allie Devine, a Topeka attorney and former Kansas agriculture secretary who has been leading the push.
We are not a migrant worker state, Devine said. We have an immigrant labor force that has been here for 30 years. What we've found is we need a way to keep those individuals and their families here and that's what we're trying to do.
In recent years, an influx of immigrants has reshaped Kansas' demographic landscape. The state's Hispanic population grew by 59.4 percent between 2000 and 2010, from about 188,000 to 300,000, and the overall foreign born population has grown from 2.5 percent in 1990 to 6.5 percent in 2010, according to census data. Two counties in Western Kansas are more than 50 percent Hispanic. The immigration boom has helped offset an exodus of white Kansans out of small towns in the western half of the state.
Supporters of the work authorization program say they are acknowledging that shift and trying to give the burgeoning immigrant population a route to legal jobs. But others worry that it might exploit immigrants by binding their fates to the companies they work for.
What happens if someone gets injured, if someone wants to leave because they think their rights are being violated? said Kevin Johnson, Dean of the University of California, Davis Law School and an expert on immigration law. For some people that's too similar to some sort of indentured servitude or forced labor.
The legislation allows an authorized worker a 90-day grace period to find new work if they lose their job. Rep. Bill Feuerborn, a Democrat who is the ranking member on the Kansas House committee that is weighing the legislation, acknowledged that immigrants who were fired or who saw their employers go out of business could face harsh consequences.
Most definitely, I think the local law enforcement would have to start proceedings to send these undocumented immigrants back, said Feuerborn.
Enough Incentives for Immigrant Participation?
That raises questions about what incentives immigrants would have to sign on. Just as the federal government must approve the new work authorizations -- something that is far from certain -- only Congress can change the law to confer legal residency or citizenship on immigrants who would otherwise not be eligible. Immigrants who participated in the work authorization program would likely be no closer to legal status.
Unauthorized immigrants often avoid contact with public institutions and this would probably be no different, said Madeleine Sumption, a researcher at the Migration Policy Institute. I think one of the things that would influence their decision to come forward is whether there is a path to permanent residence, and that would be a strong inducement if there was a light at the end of the tunnel.
--
© Copyright IBTimes 2023. All rights reserved.
FOLLOW MORE IBT NEWS ON THE BELOW CHANNELS