Karachi, Pakistan: Troubled, Violent Metropolis Was Once Called 'Paris Of The East'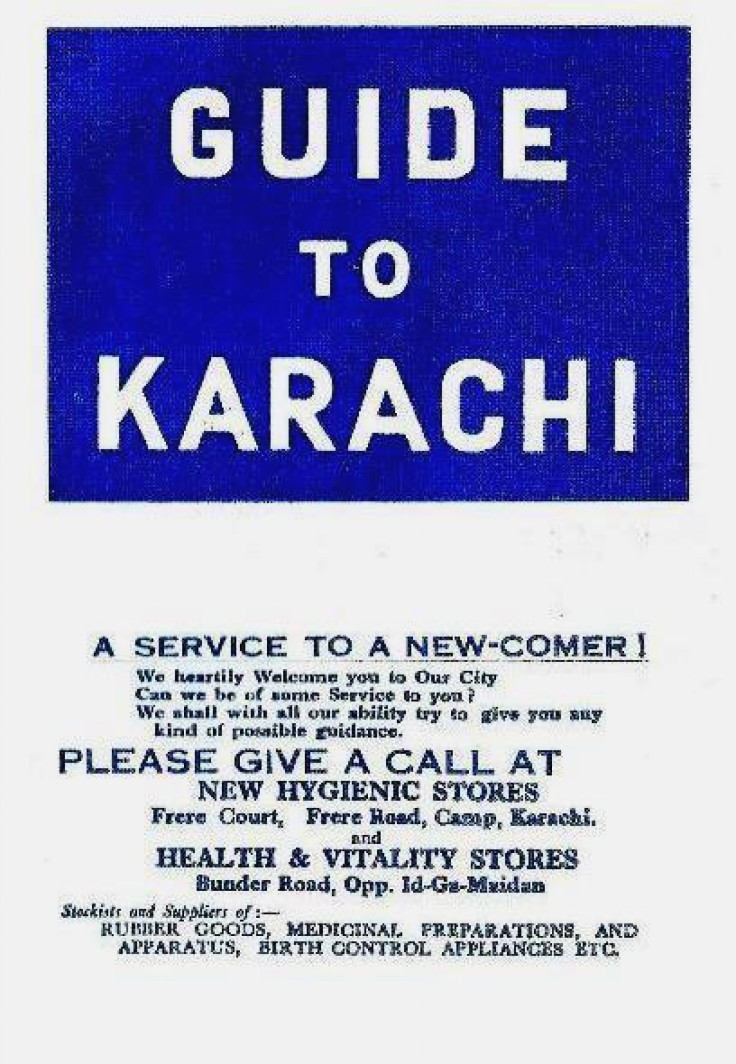 Karachi, Pakistan, a sweltering, overcrowded, crime-ridden metropolis of at least 18 million people on the Arabian Sea, generates seemingly endless reams of negative publicity in the media. Disturbing stories about murders (both personal and political), rapes, bombings, kidnappings and drug trafficking have become so commonplace that Karachi's image as a nightmarish "Third World" urban hell-hole have been seared into the public's consciousness.
However, decades ago, Karachi was a very different place -- so different, in fact, that in 1942, the city charmed American soldiers enough to dub it the "Paris of the East." During World War II, the U.S. Army published an information booklet for American soldiers stationed in what was then British India. Entitled a "Guide to Karachi" and describing itself as a "locally produced informational booklet for U.S. soldiers in Karachi, India, in the CBI Theater of World War II," the booklet provides a fascinating glimpse into life in the coastal town. [CBI referred to the "China-Burma-India Theater," a term used by the U.S. military then to encompass the South and Southeast Asian theaters of the war.]
Aside from advertisements for stores selling English-style suits, jewelry, artwork, insurance and even Chinese foods, the booklet noted that the city's population was only about 400,000; was "well known for its sea beach and bathing places;" and that "in summer it's cooler than other places in the interior [of India]." It also declared Karachi as the "cleanest city in the whole of India." The booklet praised the large number of Karachi's cultural institutions and attractions, including zoos, museums, palaces, racetracks, dance halls, hotels and cafes. [There is even an advertisement for a "Dr. Atalrai," an expert in dealing with issues of venereal diseases and birth control.]
Of course, given the reality of war, the publication also provides instructions on what to do in case of an air raid: "People in schools, cinemas or public buildings[s] should remain there. All vehicles must be stopped at the side of the road and horses, camels and donkeys tied up to lamp-posts or trees."]
In a recent letter to Pakistan's English language newspaper Dawn, a Karachi resident named S. Mohammad Sibtain spoke wistfully of the booklet and what it means. "Very few of us know that Karachi used to produce grapes," he wrote. "While talking of the Gandhi Gardens, the guidebook says 'grapes grown in the gardens are famous not only in Karachi but outside also.'" Sibtain noted that "some of the shops mentioned are still there, but many have disappeared. As for eating houses, old Karachiites will miss restaurants that have disappeared -- Café Grand, Café Oxford and two Chinese restaurants -- Chunking and Victory." He added: "All that has happened to Karachi is not all negative. Karachi has flourished into a major industrial center, it is a dynamic city, its educational institutions continue to increase and it has an enviable philanthropic establishment. Let us work to restore Karachi to its glory and make it a crime-free city."
Manjeet Kripalani, Executive Director of Gateway House, Indian Council on Global Relations, wrote recently that during the days of the raj Karachi was "cosmopolitan, fashionable, and creative," and that its "people progressive, educated and secular." "The population, comprised of émigrés from India, many of whom carried their genetic business acumen with them, native Sindhis -- both Hindu and Muslim -- Parsis, Christians and others from across the land, both Shia and Sunni," she said. "Like Mumbai, it was also a wealthy city, the financial center with access to the port." She indicated that Karachi still retains some of that flavor, but the numbers have dramatically changed, while religious extremists and violent crime have polluted the once egalitarian spirit of the city.
"Of an estimated population of [perhaps up to] 20 million -- the minority Parsis, Hindus and Christians are [only] a handful," she lamented." The Muhajirs, or Indian émigrés, are also dwindling. Growing in number are the Pathans, now over 5 million, who have fled their homes in the Northwest [of Pakistan] to find work in Karachi. The native Sindhi population is just 7 percent -- and even the Governor of Sindh, who resides in a palatial colonial home in Karachi and has a sensitive post, is a non-Sindhi." She said the Taliban have moved into the city, and have begun a violent campaign against Shia Muslims, terrorizing and assassinating people in mosques, in the streets, "and demoralizing them by targeting their intellectuals -- doctors and teachers."
Indeed, the image of Karachi as a pleasant, idyllic elegant seaside hamlet has long been obliterated. As a Karachi-based journalist named Sanam Maher complained in a piece in Boat Magazine, Karachi now generates headlines like "the most dangerous city on Earth," "the most dangerous place for journalists," "the worst country to live in as a woman," "Pakistan's dark heart … dangerous, chaotic, ungovernable … one of the most violent cities on Earth … doomed … indestructible."
But Maher tries to find some solace to living in his troubled city. "It is common for people to stop reading the newspaper or watching news channels here, because the news is always bad," he wrote. "As a journalist, I cannot tune out, as much as I'd like to. And so, I look for examples of the city's (often inadvertent) sense of humor," adding that the "best approach to surviving in this city is, as the Urdu slogan painted on thousands of trucks reminds you, 'to dekh (look), magar pyaar se (but with love).'"
© Copyright IBTimes 2023. All rights reserved.