Kawhi Leonard To Lakers: Package Demands From San Antonio Spurs Revealed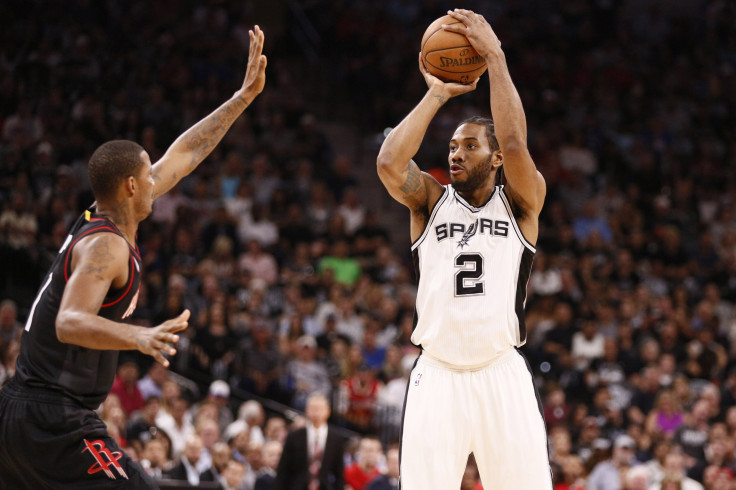 If Kawhi Leonard is going to be traded to the Los Angeles Lakers this season, the San Antonio Spurs will not be letting him go for cheap.
Last month, it was revealed that Leonard wanted to be traded away from San Antonio with his preference being the Lakers. But with one year remaining on his deal with no player option, the 28-year-old does not hold all the cards in deciding his future.
The Spurs initially showed no interest in a potential deal with the 16-time champions as they were a Western Conference rival and would be better off trading him to the East. However, they did later reopen talks with the Lakers as well as other teams but refuse to be strongarmed as they have demanded a huge package for the 2014 Finals MVP.
According to NBA salary cap expert and Lakers insider Larry Coon, appearing on Spectrum SportsNet, the exact demands for Leonard from the Spurs are the likes of young prospects Brandon Ingram, Kyle Kuzma and Josh Hart, as well as two first-round draft picks and the swapping of two more draft picks.
"They're still talking ... There's still the option of bringing in somebody like a Kawhi Leonard. From what I hear they're [Spurs] asking a lot," Coon said. "My sources are saying Brandon Ingram, Josh Hart, Kyle Kuzma, two firsts and two pick swaps … They're just saying give us everything."
Whether the Lakers agree to such a steep deal remains to be seen, especially going by their recent signings. Following confirmation on Sunday that LeBron James was going to be a Laker, the franchise went on to sign the likes of Lance Stephenson, Javale McGee, Rajon Rondo and Kentavious Caldwell-Pope on one-year deals.
The thinking behind the signings is likely to give James seasoned veterans to play with alongside the current core of young players before freeing up the cap space to sign Leonard as a free agent next year. While they would have to wait another season to acquire Leonard that way, they will also get to keep their young prospects who can accelerate their growth under James, along with their draft picks.
However, waiting also comes with its risks as there's never a guarantee that Leonard will retain his desire to join the Lakers after a year. That was certainly the case with Paul George, who before signing with the Oklahoma City Thunder last year, wanted to join the Los Angeles side.
The forward then became an unrestricted free agent last week, heavily expected to finally join the Lakers, only to perform a u-turn and stay on at OKC. Similarly, Spurs head coach Gregg Popovich could convince Leonard to stay on, as he did with LaMarcus Aldridge last year, though in this scenario, the relationship between the parties may be too fractured.
The Spurs though, could trade their disgruntled star to a different team as they are also in discussions with the Philadelphia 76ers and Boston Celtics, the former of whom have been reportedly asked for three future first-round draft picks and two current players in exchange for Leonard. A move to the Sixers could make them the favorites in the East next season.
© Copyright IBTimes 2023. All rights reserved.