Kenneth Bae: American Was Caught And Imprisoned In North Korea For Spreading Christianity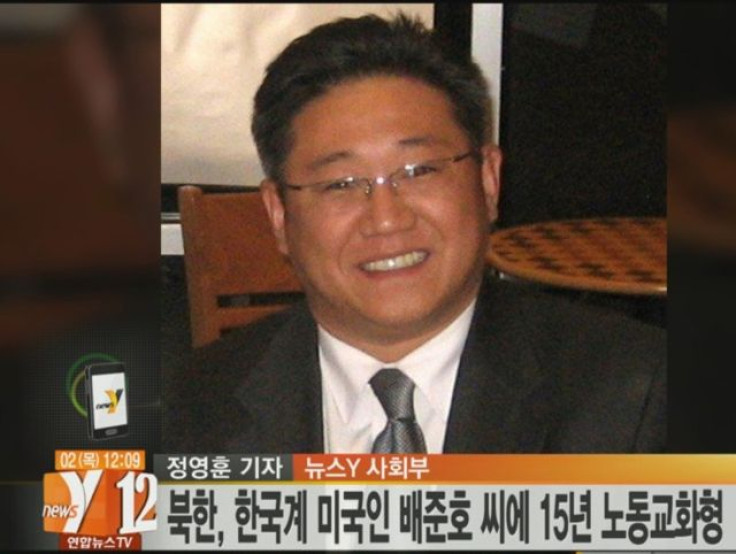 Getting access to North Korea is already quite difficult. Still, a group of Christian missionaries have been able to make some inroads into the isolated nation by pretending to be visiting businessmen seeking trade opportunities.
According to a report by the Telegraph, a detained American citizen, 44-year old Kenneth Bae, was one of several people working covertly as missionaries while also operating as tour guides, bringing in groups of people to the Wongjong border crossing between China and North Korea.
Bae was working under the auspices of a tourism company called Nations Tour when he was arrested in November 2012 and eventually convicted of committing "hostile acts" against North Korea. He is currently serving a 15-year sentence at a labor camp. While details concerning what specifically triggered Bae's arrest remain unclear, his religious affiliations were likely one of the major reasons why he was caught.
As with other information from North Korea, it is hard to verify just how many business operations are functioning as fronts for people seeking to evangelize in the country. While there is a misconception that all organized religion is banned in the oppressive state, Buddhism and Cheondoism, a Korean religion that has a corresponding political party representing it, can be practiced in the country.
Christianity, on the other hand, continues to be prohibited because of its association with the West. North Korea's government has relentlessly suppressed practice of the faith, and defectors have alleged that the mere possession of a Bible was reason enough to be arrested.
Still, according to the Telegraph report, one unidentified American who had been on a tour with Bae in the past says that in the Special Economic Zone outside the city of Rason where they entered, officials turned a blind eye to them when they brought in Christian Bibles. Because North Korea is strapped for money, food, fuel and other resources, officials in the zone were more lenient. The Bibles that were brought into the country were meticulously counted at the border, and counted again upon departure, the source said, to ensure that no religious texts were distributed.
While inside the borders of North Korea, the group would sing Christian songs, but hum some verses of the tune to avoid uttering the word "God" aloud. "That was our way of worshipping and praising in our hearts, even if we could not say it," the source said in the report. "Talking about God directly, that would be asking for a death sentence."
Although the group did not overtly emphasize that they were engaged in a Christian mission, their public worship was designed to allow for the "walls" to come down in North Korea and to call for "the leadership to allow more freedom for their people to freely worship if they want to."
Moreover, Bae's training at religious centers in the United States suggests that he was in North Korea to help spread Christianity among the people.
Bae was reportedly working with the Youth with a Mission (YWAM), a global ministry based in Hawaii. According to Loren Cunningham, the founder of YWAM, smuggling Bibles into North Korea was one of their principal goals. YWAM believes that the Christian gospel will sustain morality within the nation under the oppressive regime of Kim Jong-un.
According to a report in Christian Today Australia, which explicitly described Bae as a "Christian missionary," Bae is now the "longest serving American prisoner in North Korea since Korean War," after a year in detention.
© Copyright IBTimes 2023. All rights reserved.