Kentucky Derby 2016: Actual Start Time, Latest Betting Odds For the Main Race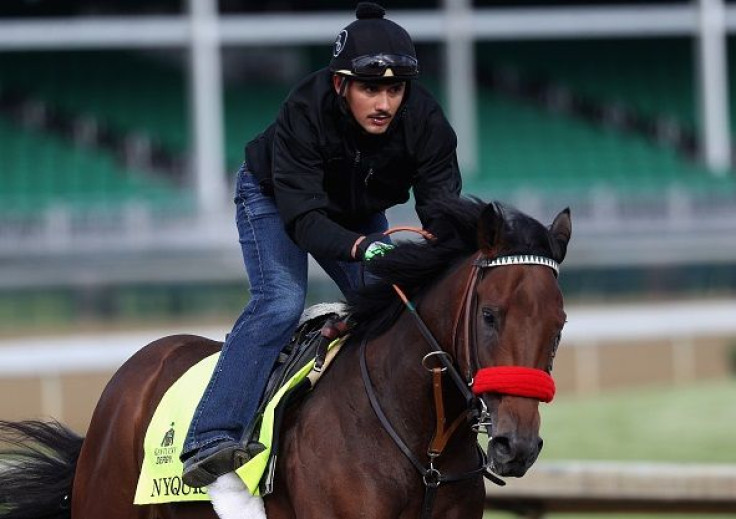 UPDATE: 6:58 p.m. EDT -- Nyquist won Saturday's Kentucky Derby, remaining undefeated. Exagerrator finished second. Gun Runner finished third.
Original story:
In a few short hours the starting gates will be locked and loaded for the 142nd Kentucky Derby early Saturday evening at Churchill Downs in Louisville. Twenty of the world's finest thoroughbreds will line the track for a chance at glory, and a more than $1.6 million prize for first place with a crowd of 167,227 on hand.
Hoping to equal the amazing feat of Triple Crown victor American Pharaoh from last year, Nyquist has held steady throughout the week and even in the hours leading up to the Run for the Roses. He was a 3-1 morning-line favorite after drawing the No. 13 post and has since improved to 2-1 odds as spectators place their bets.
With roughly three hours left until post time, more than $2.4 million in bets have been placed on the Uncle Mo 3-year-old colt, but he does have some stiff competition in the middle of the field.
No. 11 Exaggerator (5-1) is considered Nyquist's most dangerous opponent, and the two will certainly battle for position in the first quarter mile and before the first turn and back stretch.
After those two, No. 5 Gun Runner (10-1), No. 14 Mohaymen (12-1) and Mor Spirit (12-1) make up the next tier of contenders, with everyone else a longshot to claim the first Triple Crown jewel.
Actual Start Time: The horses will be called to the starting gate and are scheduled for a 6:34 p.m. ET post time. Assuming everyone reaches the gate in a timely manner, the race should start a few seconds or a minute after the gate is closed at 6:34 p.m.
2016 Kentucky Derby Post Positions and Latest Betting Odds
1.Trojan Nation 38-1
2.Suddenbreakingnews 23-1
3.Creator 16-1
4.Mo Tom 23-1
5.Gun Runner 10-1
6.My Man Sam 18-1
7.Oscar Nominated 39-1
8.Lani 27-1
9.Destin 21-1
10.Whitmore 31-1
11.Exaggerator 5-1
12.Tom's Ready 43-1
13.Nyquist 2-1
14.Mohaymen 12-1
15.Outwork 26-1
16.Shagaf 54-1
17.Mor Spirit 12-1
18.Majesto 58-1
19.Brody's Cause 22-1
20.Danzing Candy 27-1
© Copyright IBTimes 2023. All rights reserved.