Kentucky Derby's Latest Betting Odds: Top Challengers To American Pharoah, Dortmund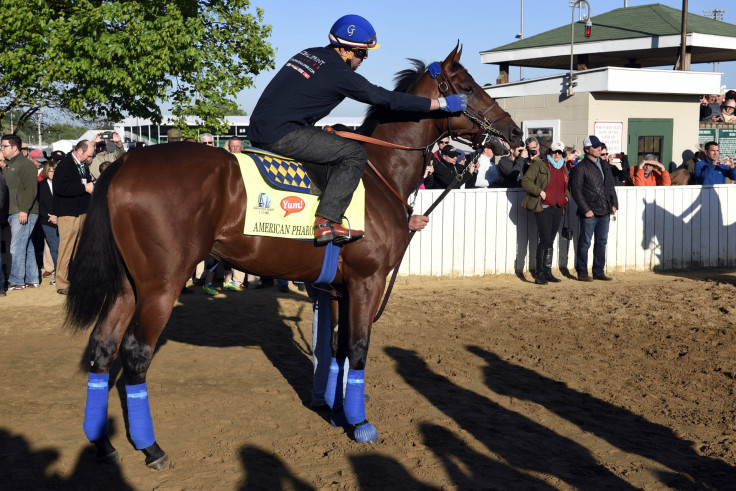 When it comes to this year's Kentucky Derby, there's trainer Bob Baffert's favored duo of American Pharoah and Dortmund, and then there's every other thoroughbred vying for the first jewel of the Triple Crown.
Baffert's chances of securing his fourth Churchill Downs victory, and first since 2002, seem all but certain among odds makers. Bovada.lv currently lists American Pharoah as the 9/4 favorite, followed ever so closely by Dortmund at 9/2, and Vegas Insider's compilation of odds have American Pharoah at 3/1 and Dortmund 4/1.
"I have been doing this for 35 years, and he might be the best horse I've ever seen," private clocker and bloodstock agent Gary Young said of American Pharoah in a statement after the three-year-old colt's workout Saturday.
"He's simply like Michael Jordan and stays in the air like he did in his rookie year. He stays in the air longer than any horse, and you get the feeling that there's not one gear left, but he may have two, three or four gears."
There's certainly a lot of pressure on American Pharoah to live up to such lofty expectations, and Baffert told the Associated Press he's more focused on the contender's mood prior to Saturday's 141st Run for the Roses.
"He's where we want him to be," Baffert said. "He hasn't regressed. He looks great. … From here on out we have to keep him happy."
Baffert understands better than most how talented every Derby crop can be each year, and this year's is no different with a slew of contenders itching to prove the early prognostications wrong.
Sitting right behind the two favorites is trainer Todd Pletcher's Carpe Diem, a three-year-old colt that picked up victories at the Blue Grass Stakes and Tampa Bay Derby over the last two months and has moved from some odds listings as 10/1 to as low as 6/1.
Carpe Diem is one of four, or one-fifth of the 20-deep field, that Pletcher will send out at the 6:24 p.m. ET post time, including Itsaknockout, Materiality and Stanford.
Out of that group, Materiality joins Carpe Diem atop the current list of favorites at 12/1 on Bovada.lv and 10/1 on Vegas Insider, which is slightly down from his 9/1 odds earlier this month.
Materiality could be one of the more rested contenders in the field, starting only three races in his career beginning in January. He's won all three of his starts, including the Florida Derby last month over runner-up and fellow Louisville contender Upstart.
Upstart's odds have reached as high as 14/1, even though he's raced seven times since August and owns only one victory since last summer, the Grade 2 Holy Bull back in November. However, he did push Materiality in Florida and Itsaknockout at the Fountain of Youth for runner-up finishes in both races, and he does come from the same line 1977 Triple Crown-winner Seattle Slew.
Check out the full list of odds from Bovada.lv and Vegas Insider below.
Bovada.lv Odds
American Pharoah 9/4
Dortmund 9/2
Carpe Diem 7/1
Materiality 12/1
Mubtaahij 14/1
International Star 18/1
Firing Line 18/1
Frosted 18/1
Upstart 22/1
El Kabeir 33/1
Far Right 33/1
Itsaknockout 33/1
Bolo 40/1
Danzig Moon 40/1
Ocho Ocho Ocho 40/1
Mr. Z 40/1
Keen Ice 50/1
War Story 50/1
Tencendur 66/1
Vegas Insider Odds
American Pharoah 3/1
Dortmund 4/1
Carpe Diem 6/1
Mubtaahij 8/1
Materiality 10/1
Upstart 14/1
International Star 16/1
Frosted 18/1
Firing Line 19/1
Danzig Moon 32/1
El Kabeir 32/1
Keen Ice 32/1
Itsaknockout 33/1
Far Right 34/1
Bolo 35/1
Ocho Ocho Ocho 40/1
War Story 40/1
Frammento 55/1
Mr. Z 60/1
Stanford 60/1
Tencendur 90/1
Bold Conquest 100/1
Metaboss 100/1
© Copyright IBTimes 2022. All rights reserved.
FOLLOW MORE IBT NEWS ON THE BELOW CHANNELS