Kentucky vs. Wichita State 2014: TV Channel, Start Time, Prediction And Preview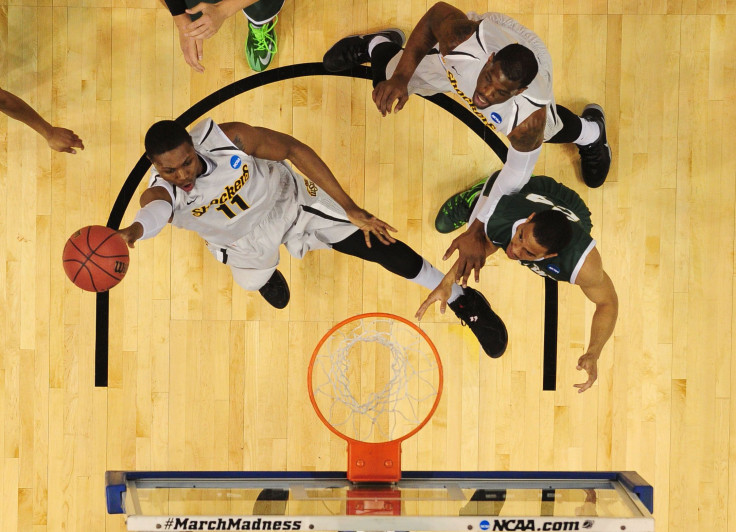 Undefeated and hungry for a second straight trip to the Final Four, No.1 Wichita State (35-0, 18-0)takes aim at talented but unpredictable No. 8 Kentucky (25-10, 12-6) in third round action of the NCAA Tournament on Sunday afternoon.
Once the seeds and brackets were announced, many questioned the NCAA Selection Committee's motives in placing No. 1 Wichita State in such a loaded region as the Midwest, especially with the possibility of facing a Wildcats squad loaded with blue-chip prospects like freshman forward Julius Randle and swingman James Young. Not to mention the freshman Harrison Twins, Aaron and Andrew.
Much will be made of head coach John Calipari's young Kentucky team with such green players angling to debunk one of the most incredible undefeated runs in NCAA history, but the age difference between the two squads is negligible. The Shockers have six upper classman compared to five for the Wildcats.
While Wichita State may lack in talent or hype, each player should be praised for both finding and sticking to the roles assigned by head coach Gregg Marshall.
Senior forward and tourney hero from a year ago Cleanthony Early fits the mold as best all-around player and go-to scorer with 23 points and seven rebounds per game. Sophomore guard Ron Baker hits the glass for a team-best nine rebounds per game and also manages seven points per, while guard Fred VanVleet runs the show with eight assists and one steal per.
To start the tournament Early, Baker and VanVleet all hit their exact averages for a 64-37 beatdown of Cal Poly.
Essentially the Shockers are a well-coached and oiled machine, capable of turning the Wildcats back to Lexington. However Kentucky's recent play suggests a deep run is certainly possible.
The Wildcats trudged through their early schedule without a win over a ranked opponent, and late in SEC play they fell to Arkansas and last-place South Carolina in consecutive games. Those two losses might have served as motivation as Kentucky has since gone 4-2, with their only losses coming at the hands of No. 1 ranked Florida; one of which was only by one point in the SEC title game.
Randle has struggled with his shot all season, but he's an elite rebounder who's recorded a double-double in 10 of the last 12 games. For the season Randle's also led the Wildcats in scoring and field-goal percentage, and his 19 points and 15 rebounds powered the second round 56-49 win over Kansas State.
With Randle as the primary scorer, Young has been able to stalk the perimeter for 14.3 points and a team-high 73 three-pointers. Against K-State Young struggled by going 3-for-13, but he could matchup better against the Shockers smaller backcourt.
Sophomore seven-footer Willie Cauley-Stein could seve as Calipari's ace in the hole on Sunday. The center has ripped down 6.3 rebounds and blocked three shots per game. He's struggled to stay in the starting lineup, but no other Wildcat comes close to Cauley-Stein's ability to alter or swat away a shot, and he's the main reason Kentucky led the SEC with 6.3 blocks per game.
Against K-State Cauley-Stein may also have had his breakout defensive performance with eight rebounds, four steals and four blocks.
If successful the Shockers would make the sixth Sweet 16 in the program's history. For Kentucky it would be the 39th trip.
As for what Las Vegas thinks about the matchup, Wichita State is favored by four points.
Time: Sunday, 2:45 p.m. EST
TV Channel: CBS
Online Stream Info: A live online stream can be viewed at NCAA March Madness Live here.
Prediction: Wichita State 68, Kentucky 60
© Copyright IBTimes 2023. All rights reserved.