Kenya Election: Odinga Party Cries Fraud, Raising Fears Of Violence All Over Again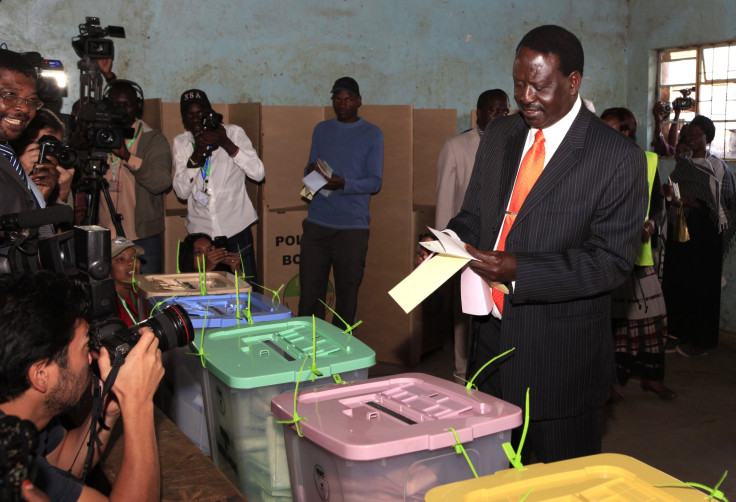 One of the frontrunners in Kenya's presidential election is claiming fraud, raising the risk of violence as electoral officials count the ballots that will determine the next leader of East Africa's largest economy.
The election took place on Monday, with high turnout and long lines forcing many polling stations to stay open well into the night. A final result has not yet been announced, but provisional counts indicate that Uhuru Kenyatta, who is a member of the influential Kikuyu tribe and son of Kenya's founding president Jomo Kenyatta, is in the lead with 53.42 percent of the vote.
Of the remaining seven candidates, Kenyatta's closest contender is Raila Odinga, who has 41.98 percent. Odinga, a member of the Luo tribe, is currently Kenya's prime minister.
The African Union and the European Union have deemed the vote fair and transparent, but Odinga's running mate Kalonzo Musyoka has cried foul.
"We have evidence the results we have received have been doctored," said Musyoka, according to the BBC. "We as a coalition take the position the national vote-tallying process lacks integrity and has to be stopped and restarted using primary documents from the polling stations."
The Independent Electoral and Boundaries Commission is responsible for ensuring that this election progress peacefully. The last general election, in 2007, resulted in widespread violence. Then as now, Odinga, who ran but lost to incumbent President Mwai Kibaki, cited a fraudulent vote count. The subsequent protests and ethnic clashes killed more than 1,200 people and displaced hundreds of thousands.
Kenyatta, who supported Kibaki five years ago, has been accused by the International Criminal Court of encouraging armed reprisals against Odinga supporters and fanning the flames of deadly violence in 2007 and 2008. His current running mate, William Ruto, faces similar charges. Kenyatta's trial was originally scheduled to begin in mid-April, but has been postponed at least until August.
The ICC indictment has added an additional layer of tension, with many Kenyatta supporters defending the candidate and accusing the international community of meddling in domestic affairs.
In this tense environment, Odinga's allegations of fraud have put nerves on edge in Kenya and around the world. The IEBC, a two-year-old organization that has presided capably over a relatively peaceful election, was quick to deny his claims.
"There is no room to doctor results whatsoever," IEBC Chairman Ahmed Issack Hassan said.
Also at issue in this election is the protocol regarding spoiled ballots -- erroneously completed forms that are essentially counted as blanks. IEBC tallies indicate that if those ballots are counted as part of the total, Kenyatta's share of the votes is down around 48.23 percent. In other words, he would not have the 50 percent necessary to avoid a runoff.
If the spoiled ballots are counted -- the matter is still being debated -- it could give Odinga a new chance to swing a majority. A runoff, if it occurs, would be held in mid-April.
For now, tensions are high as Kenya waits for a final tally from the IEBC, which has been slowed by problems with the electronic transmission system for reporting votes. Odinga, despite his objections, is still calling for peace, while Kenyatta's party is condemning the allegations of fraud.
"We believe the people of Kenya have waited patiently for the results of this general election," said a spokesperson for Kenyatta's coalition, according to the BBC. "We urge international observers -- if they hold sway with Mr. Odinga -- to encourage him to allow the process of democracy to take its course."
© Copyright IBTimes 2023. All rights reserved.