Kenyan President Uhuru Kenyatta Declares Victory In Nairobi Mall Siege; But Death Toll Feared To Rise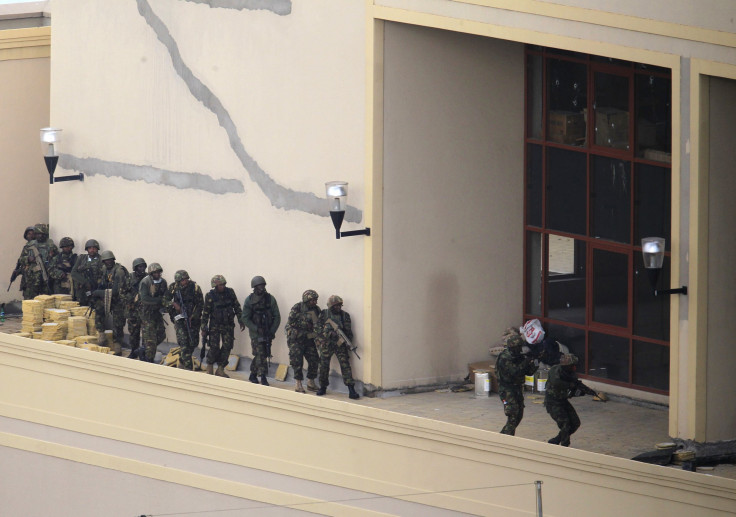 Kenyan President Uhuru Kenyatta declared victory on Tuesday in an operation to end the four-day siege of the Westgate mall in the Kenyan capital of Nairobi, amid fears that the death toll from the attack perpetrated by Somali Islamist militant group al-Shabab would be much higher than 72 as currently estimated.
"We have ashamed and defeated our attackers," Kenyatta said in a televised address, according to an Associated Press report. "Kenya has stared down evil and triumphed."
The victims of the attack were "innocent, harmless civilians" of "various nationalities, races, ethnic, cultural, religious and other walks of life," Kenyatta said, adding: "As a nation, our head is bloodied, but unbowed."
He said 11 suspects were under arrest, and added that the government is determined to bring to justice "their accomplices and patrons, wherever they are."
"Intelligence reports had suggested that a British woman and two or three American citizens may have been involved in the attack. We cannot confirm the details at present but forensic experts are working to ascertain the nationalities of the terrorists," Kenyatta said, contradicting statements made Monday by Kenya's Foreign Minister Amina Mohamed that American and British citizens were among the assailants.
Kenya began three days of national mourning on Wednesday, while preparations are under way to retrieve the bodies trapped in the rubble, including those of the attackers. About 175 people, including 62 currently under medical treatment, were injured in the attack, Kenyatta said.
The death toll could go as high as 100 to 130, Kenyan and Western government officials told AP on condition of anonymity as people are suspected to be trapped beneath rubble in the building after three stories collapsed.
"They're just seeing dead bodies. They've found no survivors, no live hostages," a Nairobi resident whose brother was taking part in the military sweep inside the mall, told AP.
© Copyright IBTimes 2023. All rights reserved.
FOLLOW MORE IBT NEWS ON THE BELOW CHANNELS