Kerry Reassures Anxious Saudi, Sunni Allies That Washington's Middle East Policy Hasn't Changed After No Strike On Syria And Thawing Iran Ties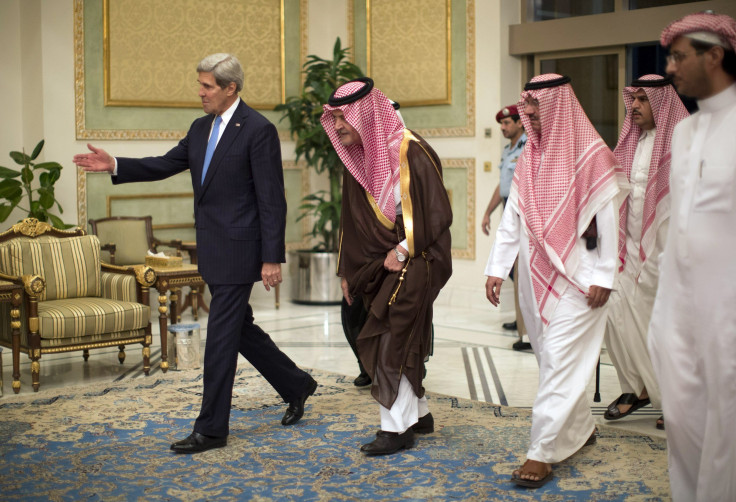 In an effort to mend ties with Saudi Arabia, which openly expressed its disappointment over the U.S. backing away from a punitive strike on Syria's Alawite President Bashar Assad, Secretary of State John Kerry said on Sunday that Washington will continue to defend the interests of Sunni majority nations including Saudi Arabia.
Kerry, who landed in Riyadh on Sunday night on the second leg of his 10-day tour of the Middle East, Europe and North Africa, sought to ease anxieties among Washington's key allies in the Middle East, amid warming ties with Shiite Iran, a common foe of Sunni majority nations and a staunch ally of Assad, who belongs to the Alawite sect, an offshoot of Shiite denomination of Islam.
"The United States will be there for the defense of our friends and our allies," Kerry told reporters in Cairo on Sunday, which was Kerry's first stop on the tour. "We will not allow those countries to be attacked from outside. We will stand with them," he said, specifically naming predominantly Sunni nations such as Egypt, Saudi Arabia, the United Arab Emirates, Qatar, and Jordan, Associated Press reported.
Kerry's focus will be on issues relating to Syria, Iran and Egypt, a senior State Department official said in the official transcript of a background briefing on the trip.
The official added that the secretary of state will move the discussion along with the Saudis about a resolution to the Syrian civil war, "particularly moving toward the Geneva peace conference" and on preventing Iran from acquiring a nuclear weapon ahead of the second round of talks with Tehran in Geneva starting Nov. 7.
"And then he'll want to talk with (Saudi) King Abdullah … about achieving peace between Israelis and Palestinians," the official said.
In September, Saudi Arabia had turned down its rotating membership on the United Nations Security Council, saying that the body has been ineffective in addressing the Syrian crisis.
Kerry, who met with Saudi Foreign Minister Prince Saud al-Faisal late on Sunday, said differences have cropped up between Washington and its Middle Eastern allies over Syria and Iran, but stressed that the fundamental relationship between the two sides remains unchanged.
"There may be some differences on a tactic here and there," Kerry said, but added that everyone agrees on a common goal of ending the fighting in Syria and forming a new government.
"There are some countries in the region that wanted the United States to do one thing with respect to Syria and we have done something else," he said, according to AP.
"Those differences on an individual tactic on a policy do not create a difference on the fundamental goal of the policy. We all share the same goal that we have discussed, that is the salvation of the state of Syria and a transition government put in place ... that can give the people of Syria the opportunity to choose their future."
© Copyright IBTimes 2023. All rights reserved.
FOLLOW MORE IBT NEWS ON THE BELOW CHANNELS