Kerry Urges Russia To Help Implement Ukraine Agreement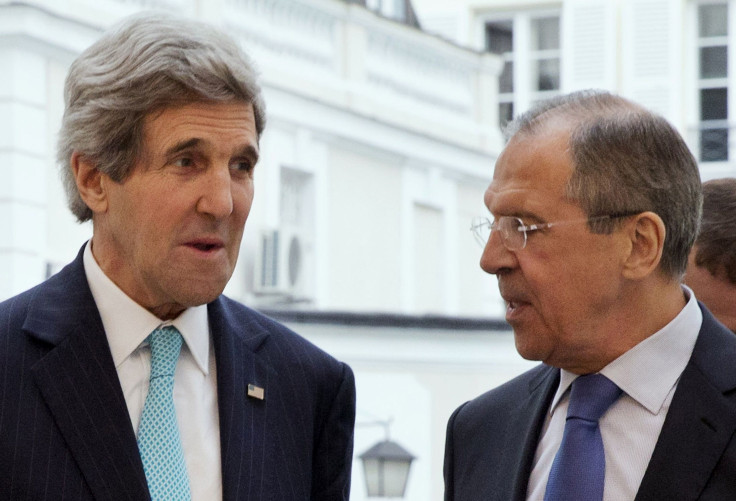 WASHINGTON (Reuters) -- U.S. Secretary of State John Kerry urged Russia Monday to meet Ukraine halfway in trying to implement an agreement to defuse the crisis in the former Soviet republic.
Kerry spoke with Russian Foreign Minister Sergei Lavrov by telephone on Monday morning, State Department spokeswoman Jen Psaki said. Russia, Ukraine, the European Union and the United States on Thursday agreed on ways to ease tensions in the worst confrontation between Russia and the West since the Cold War.
"The secretary urged Russia to take concrete steps to help implement the Geneva agreement, including publicly calling on separatists to vacate illegal buildings and checkpoints, accept amnesty and address their grievances politically," Psaki said at a news briefing.
With pro-Moscow separatists showing no sign of surrendering government buildings they have seized in eastern Ukraine, Washington pegged a threat of new sanctions on Russia to how hard Moscow tries to make the Geneva agreement work.
"If progress is not made in coming days, we will impose further costs," White House spokesman Jay Carney said.
The Geneva agreement calls for illegally occupied buildings to be vacated under the auspices of envoys from the Organization for Security and Cooperation in Europe.
Kerry called on Russia to assign a senior diplomat to work with the OSCE mission in eastern Ukraine, Psaki said, "to make absolutely clear to the separatists that Russia supports the agreement and wants de-escalation."
Kerry told Lavrov the government of Ukraine sent senior representatives to the east with the OSCE, put forth a broad amnesty bill for separatists to give up buildings and weapons and called an Easter pause in its military operations.
"He asked that Russia now demonstrate an equal level of commitment to the Geneva agreement in both its rhetoric and its actions," Psaki said.
Russia blamed Ukrainian nationalists for an Easter Sunday morning shooting that killed three people at a checkpoint and said Kiev was failing to implement the Geneva deal.
"The secretary also made clear that Russia's recent public statement casting doubt on Ukraine's commitment to the Geneva agreement flies in the face of the facts," Psaki said.
U.S. and European officials say they will hold Moscow responsible and impose new economic sanctions if the separatists do not clear out of government buildings they have occupied across swathes of eastern Ukraine over the past two weeks.
Kerry also asked Russia to join the United States in calling for the immediate release of Imra Krat, a Ukrainian journalist being held by pro-Russian separatists in the eastern part of the country.
© Copyright IBTimes 2023. All rights reserved.