Kerry Urges Turkey And Israel To Normalize Ties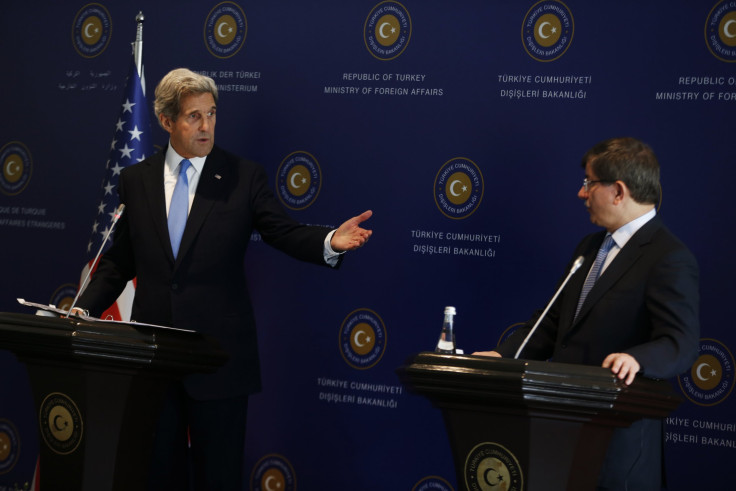 Less than a month after returning from the Middle East while accompanying U.S. President Barack Obama, Secretary of State John Kerry is back in the region as of Saturday. This marks Kerry's third visit to the region since assuming the mantle of secretary of state.
Kerry spent Saturday and Sunday in Istanbul meeting with Turkey's Foreign Minister Ahmet Davutoglu, and urged Turkey to restore full diplomatic ties with Israel. The two Middle East powers cooled toward each other in January 2010 when Hamas political leader Khaled Meshaal visited Istanbul in his official capacity. In May 2010, nine Turkish and one Turkish-American activist were killed in a scuffle with Israel operatives when their organization, the Foundation for Human Rights and Freedoms and Humanitarian Relief (İHH), sponsored a ship that attempted to run the Gaza blockade. A U.N. report later found Turkey guilty of violating international law, but Israel officially apologized for those deaths in March.
"We would like to see this relationship that is important to stability in Middle East, critical to the peace process itself, we would like to see it back on track in its full," Kerry said at a joint press conference on Sunday with Davutoglu. Kerry also said the U.S. would not be laying out any conditions for said reconciliation.
Turkey, however, still does not appear to be playing nice. Davutoglu continued to demanded "compensation" for the nine deaths and a lifting of the Gaza embargo. "There are commitments made regarding the issue of the lifting of the embargoes — improvement of the standard of living in the West Bank and Gaza, the entire Palestine, in a joint effort, and run a process on the lifting of the embargoes," he said.
An Israeli delegation is excepted to travel to Turkey on Friday to begin talks to restore ties. Reuters reports that Israeli Prime Minister Benjamin Netanyahu's office agreed provide compensation and that he and Turkish Prime Minister Tayyip Erdogan agreed to normalize ties, including re-installing their respective ambassadors.
After leaving Istanbul, Kerry will travel to Ramallah and Jerusalem, and then on to London, and then South Korea, China and Japan.
© Copyright IBTimes 2023. All rights reserved.