Kevin Durant Joining Knicks, Bucher Explains Why Warriors Forward Is Leaving
Kevin Durant will enter free agency when he opts out of the final year of his contract this summer and questions about his future are likely to be a constant topic of discussion until he makes a decision post July 1. But that has not stopped NBA experts making their predictions and the New York Knicks have been constantly mentioned as a potential destination.
The Golden State Warriors small forward has stayed away from all the speculation but admitted earlier in the season that money will be on his mind when he makes a decision about his future. Durant's current employers can offer him the largest contract - $221 million over five years – while other interested franchises can only offer him $164 million over four years.
The Knicks have the cap space to sign two big free agents and have made Durant their top priority along with Kyrie Irving, who will also enter free agency this summer. And Bleacher Report's Ric Bucher told Colin Cowherd that the two-time NBA Finals MVP's move to New York is all but agreed.
Additionally, he explained why a move to the Knicks will be beneficial to the small forward in terms of adoration from the supporters. The Warriors will always be considered Stephen Curry's bandwagon – he is the darling of the Dub Nation and despite Durant's key role in them winning back-to-back titles, he is still just another member of a star-studded squad.
Bucher believes that Durant has not been embraced by the Warriors fans like they have Curry or even Klay Thompson. He feels that in New York even he only manages to lead them to the Eastern Conference finals, he will get more adulation than he ever has in the Bay Area.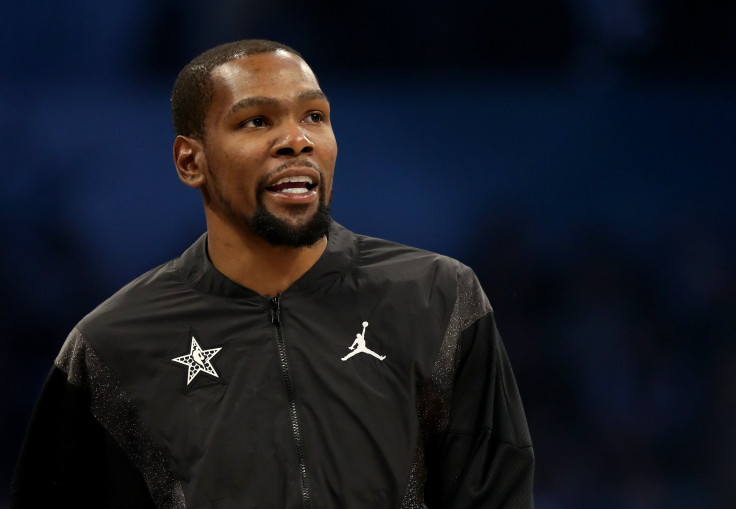 "From everything I've heard, it's done. Yes, he's leaving," Bucher told FOX Sports' Cowherd on Wednesday's edition of "The Herd". "It's not a matter of not liking or appreciating what he has. But being there, I can tell you that Kevin Durant has never been fully embraced by the Warriors faithful.
"So now that he's done that, it's a matter of, 'Where can I go and I can get this done? I can be the centerpiece and I'm going to be unbelievably appreciated.' I can tell you one place: The New York Knicks, the New York Knicks' fans, Madison Square Garden. If he so much as takes them into the conference finals, for as much as they have not done for the past multiple decades, he will be beloved there like he never has been at Golden State after winning two championships," he added.
Durant, a two-time NBA champion with possibly a third title on the way, is almost certain to be the most sought after player in the summer. There are going to be a number of teams vying for his signature, while the Warriors will be making every attempt to convince him to put down roots in the Bay Area.
© Copyright IBTimes 2023. All rights reserved.