Kevin Lee Calls For Title Shot 'If Khabib Wants A Real Challenge'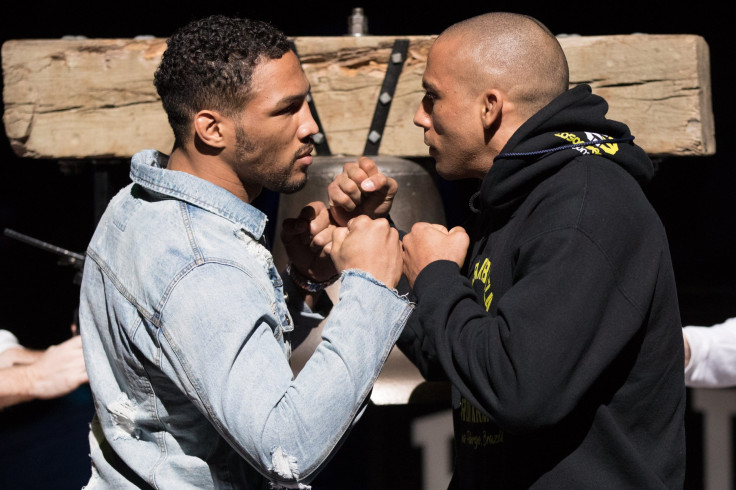 Kevin Lee has set his sights on a title fight with lightweight champion Khabib Nurmagomedov following his TKO win over Edson Barboza.
Lee last suffered defeat to Tony Ferguson in October last year but responded by dominating Barboza throughout their UFC Atlantic City main event clash on Saturday night as the latter was eventually deemed unfit to continue by doctors in the fifth and final round.
The manner of the victory was reminiscent to how Nurmagomedov dominated Barboza in his unanimous decision win in December last year before going to become champion after his UFC 223 win over Al Iaquinta earlier this month.
The "Mo-Town Phenom" has been calling for a fight with Nurmagomedov for more than a year but with a decisive win over a top contender in Barboza, now has more of a claim to fight the Russian as he called him out in his post-fight interview.
"The Eagle" has plenty of options to consider however, for his first title defense. There is the dream fight with Conor McGregor that could still be a possibility later this year while the likes of Eddie Alvarez and Dustin Poirier could also be options.
In the post-fight media scrum, Lee stated he will see how things play out in the division but ideally wants to face Nurmagomedov next and is open to facing him a potential UFC debut show in Russia.
"We gonna see how this whole thing shake out. We gonna see what Conor's [McGregor] doing, sitting on the sides or what he want but I feel like Khabib is the next fight to be had," Lee told reporters backstage. "If not that, Tony's [Ferguson] gonna be sitting out for a minute, I love that rematch but he got his own problems to look forward to, I'm just looking toward the future and getting that gold belt wrapped around me."
"I hear they going to Russia in September so I'm going to be making a call to uncle Dana [White]. I'm trying to make a fight happen. I don't think Conor want him. If they want to give it to Dustin [Poirier] to get his face beat in then [let that fight happen] but if Khabib wants a real challenge, he know the man to come to."
Meanwhile, New Jersey's own Frankie Edgar got back into the win column as well after his unanimous decision win over fellow contender Cub Swanson. Edgar was finished for the first time in his professional career when Brian Ortega knocked him out at UFC 222 last month, who in the process leapfrogged "The Answer" in the rankings.
However, Edgar opted for a short layoff and it paid dividends in the end as he is now likely to face the winner of a Max Holloway vs. Ortega featherweight title fight which is now confirmed to take place at UFC 226 on July 7.
© Copyright IBTimes 2023. All rights reserved.