Keyshawn Johnson Called Police On Justin Bieber For Reckless Driving; 'Baby' Singer Under Investigation, Report Says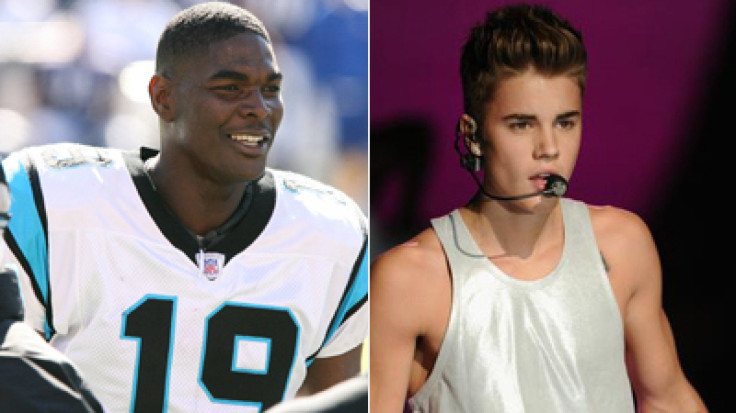 Former NFL star Keyshawn Johnson isn't a Belieber. Pop star Justin Bieber is under police investigation for yet another reckless driving incident, and sources say that Johnson was one of the people who called the cops.
The latest reckless driving incident occurred around 8 p.m. on Saturday night, Los Angeles County Sheriff spokesman Steve Whitmore told TMZ. According to the spokesman, police received two separate phone calls reporting that Bieber was driving his Ferrari around his gated Calabasas community at a "startling high rate of speed."
Sources reportedly told TMZ that Johnson was one of two people to report Bieber's reckless driving to local police. Authorities responded to the calls, but Bieber allegedly refused to speak with them regarding the incident, TMZ reports. According to the sources, at least one child was playing in the area where Bieber was allegedly speeding.
Johnson played 11 seasons in the NFL as a member of the New York Jets, Tampa Bay Buccaneers, Dallas Cowboys and Carolina Panthers. Throughout his career, Johnson was known for his outspoken antics, included publishing a book entitled "Just Give Me The Damn Ball," which chronicled his rookie season. After earning three trips to the Pro Bowl and a Super Bowl ring, the former University of Southern California standout retired from the league in 2006. Johnson now works for ESPN as a football analyst and broadcaster.
This isn't the first time that Bieber has been accused of reckless driving. In March, the "Baby" singer was involved in a heated confrontation with a neighbor, who accused him of driving his Ferrari around the neighborhood at speeds in excess of 100 miles per hour, TMZ reports.
Law enforcement officials later confirmed that neighbor walked over to Bieber's property, shouting "You can't drive like this!" Bieber reportedly responded by spitting in the neighbor's face and threatening to kill him.
© Copyright IBTimes 2023. All rights reserved.