Khabib Nurmagomedov Better Against Floyd Mayweather Than Tenshin Nasukawa: Coach
UFC lightweight champion Khabib Nurmagomedov will have a better performance against Floyd Mayweather, than Tenshin Nasukawa will at RIZIN 14 later this month, according to American Kickboxing Academy head coach Javier Mendez.
After all the initial confusion, Mayweather will indeed be coming out of retirement for the third time, when he takes on kickboxing phenom Nasukawa in a three-round boxing exhibition match on Dec. 31.
But before that contest came to fruition, there were rumors that Mayweather would instead face Nurmagomedov in a boxing match, with the latter coming fresh off a dominant win over Conor McGregor at UFC 229 in October.
Many thought it was another attention grab by Mayweather, but Nurmagomedov and his team seemed receptive to the idea as well, especially as it would land them an even bigger payday than the McGregor fight.
For now, it's not happening, but Mendez, who trains Nurmagomedov, believes the 30-year-old would fare better than Nasukawa against the American, even in a boxing ring.
"Of course I'd like to prepare him for that fight," Mendez told The Express about a potential Mayweather vs. Nurmagomedov fight. "Who wouldn't? Like I said, it's prizefighting. That's the biggest prize of all."
"Khabib's gonna do better than the person he's fighting in Japan, I'll tell you that. He's going to do way better than that guy. I guarantee you Khabib will do way better than him. We have a better chance of winning than that kid does."
While Mendez seems adamant that Nurmagomedov will eventually face Mayweather, it seems unlikely.
"The Eagle" is still waiting on his punishment from the Nevada State Athletic Commission for his role in inciting the post-fight brawl with McGregor's team at UFC 229. He is expected to receive a huge fine and could be suspended as well, with many predicting at least a year.
Even if Nurmagomedov gets a slap on the wrist, it is highly unlikely that the UFC will sanction another champion of theirs going off to face Mayweather and holding up the lightweight division again.
"We went over there, we boxed him. If he wants to do it again, he has to come to the UFC," UFC president Dana White said last month about a potential Mayweather vs. Nurmagomedov fight. "I don't think it's realistic at all, but I didn't think the [McGregor] boxing match was either. So, we'll see."
"There's a reason Floyd Mayweather wants to fight my guys: There's big money there for him. Obviously, there's big money there for us, but I'm not into making those kind of fights. If Floyd wants to come over here—he says he's been wrestling and doing this or that—if he wants to come over and fight in the UFC, he's more than welcome. ... I haven't talked to Khabib about it at all. His interest needs to be in defending his title over here. That's what he should be focused on."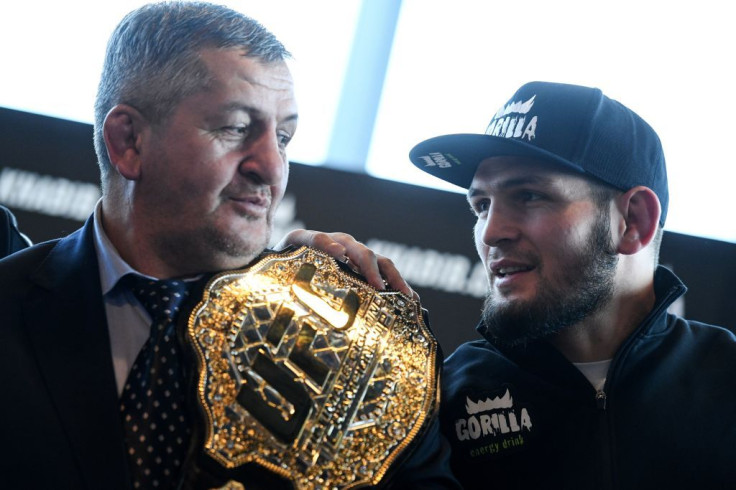 © Copyright IBTimes 2023. All rights reserved.