Khalistan: Almost Three Decades After Operation Blue Star, Movement For Sikh Homeland Fading Away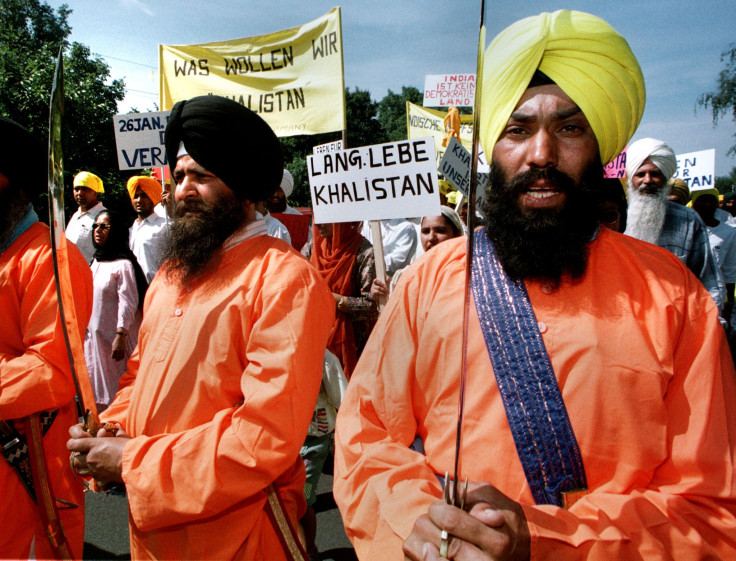 The Indian government has recently blamed Pakistan for seeking to revive Sikh militant separatism -- i.e, the 'Khalistan' movement -- in India, thereby renewing New Delhi's fears that even in a new era of democracy in Pakistan, Islamabad continues to support independence movements designed to destabilize the country.
Specifically, the home minister Sushil Kumar Shinde accused Pakistan's formidable intelligence agency, Inter-Services Intelligence (ISI), of training Sikh youths within Pakistan's borders to carry out terror attacks on Indian soil.
"There has been some significant development on the Sikh militancy front," Shinde said in a speech to state chief ministers in New Delhi for an annual conference on internal security. "Its commanders based in Pakistan are under pressure from ISI to further ISI's terror plans not only in Punjab but also in other parts of the country. He also alleged Sikh youths based in Europe and the U.S. are also being recruited by Pakistan to commit terror attacks against India.
"Sikh youths are being trained in ISI facilities in Pakistan. Interdictions and interrogations have revealed use of jailed cadres, unemployed youth, criminals and smugglers by Pak-based Sikh terror groups for facilitating terror attacks." Shinde did not provide specific details to support his charges, aside from referencing reports of interrogations by security services and alleged seizures of large caches of weapons and ammunition along India's western borders near Pakistan.
The Indian government has also criticized elements of the US government which they claim support Khalistan, an independent Sikh homeland in Punjab.
The Times of India reported that New Delhi officials have warned the administration of President Barack Obama that the American Sikh Congressional Caucus -- a Sikh advocacy group that comprises some 30 US Congressmen -- may be inadvertently seeking to resuscitate the Khalistani campaign.
Indian government officials are particularly aggrieved that Frank Pallone, a Democrat congressman from New Jersey, is also a member of the Sikh, Caucus, since he is viewed as a longtime friend and supporter of India.
The Sikh Caucus was formed in late April by Rep. Judy Chu (D-Monterey Park, Calif.), a Chinese-American lawmaker.
At the launch of the caucus, Chu said in a statement: "More than a decade after 9/11, too many Sikhs across America face discrimination, bullying, and even bias-motivated violence from misguided individuals associating them with the terrorist attacks. This caucus will be the voice for American Sikhs in the House of Representatives, working across the aisle to address the unique challenges that this community faces."
However, while conceding that Sikhs have some legitimate grievances, Indian officials insisted that Khalistan is not one of them. They also point out that the Sikh Caucus – according to the Times of India -- is linked and supported by an associate of Khalid Awan, a Pakistan-Canadian was convicted for providing material support and resources to an armed Sikh separatist organization in Punjab called Khalistan Commando Force (KCF) and other related terrorism charges. Awan is now serving 14 years in a U.S jail
The Times reported that a trial revealed that Awan was involved in recruiting hundreds of members for the KCF and helped to finance the organization.
The KCF, which is not designated as a terrorist organization by the US State Department, is nonetheless suspected of having killed a number of people in Punjab including the 1995 murder of Punjab chief minister Beant Singh.
However, the movement for an independent Sikh homeland, Khalistan, has sputtered in recent years. The movement peaked during the 1970s and early-to-mid 1980s -- culminating in the June 1984 attack by Indian security forces of the Golden Temple in Amritsar (the holiest site of Sikhism) to root out armed militants led by religious leader and separatist Jarnail Singh Bhindranwale. That maneuver, known as "Operation Blue Star," triggered massive enmity among Sikhs worldwide, leading to the assassination of Prime Minister Indira Gandhi by her Sikh bodyguards in the autumn of 1984. In the wake of her death, thousands of Sikhs were murdered across India. The following summer Sikh nationalists based in Canada blew up an Air India flight near the coast of Ireland, killing more than 300 people.
However, by the mid-1990s, the Khalistan movement appeared to have splintered and eventually faded away.
Now, in 2013, if Shinde is worried about the rise of Sikh militancy, such fears are likely groundless.
Jonah Blank, Senior Political Scientist at the RAND Corporation and an expert on South Asian affairs, said he was unaware of any ongoing support provided by Pakistan to any militant Sikh movement.
"Most allegations of such support date to the 1980s, rather than the present," he told IB Times.
"Historically, there have been allegations of Pakistani support to the Khalistan movement in India … but such allegations became less frequent as the insurgency in Punjab waned during the early/mid 1990s."
Moreover, Pakistan has so many internal problems, including having their hands full with Taliban and Al-Qaeda militants in their own country and Afghanistan, that it would seem unlikely they would expend money and resources to revive a dying movement next door in India.
Ironically, like the largely defunct Irish Republican Army, which advocated for the unity of Ireland and the removal of British troops from Ulster, the Khalistan movement appears to have more support in the Sikh Diaspora in Britain, US and Canada rather than in Punjab itself.
"The Khalistan movement today appears to be stronger among some exile communities than in Punjab itself, where it now has very little support indeed," Blank noted.
"Support for the separatist movement was widespread [in Punjab and other parts of India] in the 1980s, especially following the desecration of the Golden Temple in Operation Blue Star. But that was a long time ago -- today's [Sikh] youth (the likeliest recruiting pool for militants) weren't even born then. Anybody with first-hand recollection of Blue Star is now approaching middle-age.
Blank also noted that, given that Punjab is one of the wealthiest provinces in India and that the current Prime Minister Manmohan Singh is himself a Sikh, most Sikhs have chosen to use the peaceful political process to address their grievances do against the Indian government.
He added that the Khalistan movement has no real currency, within India or the United States.
© Copyright IBTimes 2023. All rights reserved.
FOLLOW MORE IBT NEWS ON THE BELOW CHANNELS