Kim Jong Un, Donald Trump Asked Moon Jae-In To Mediate Denuclearization Talks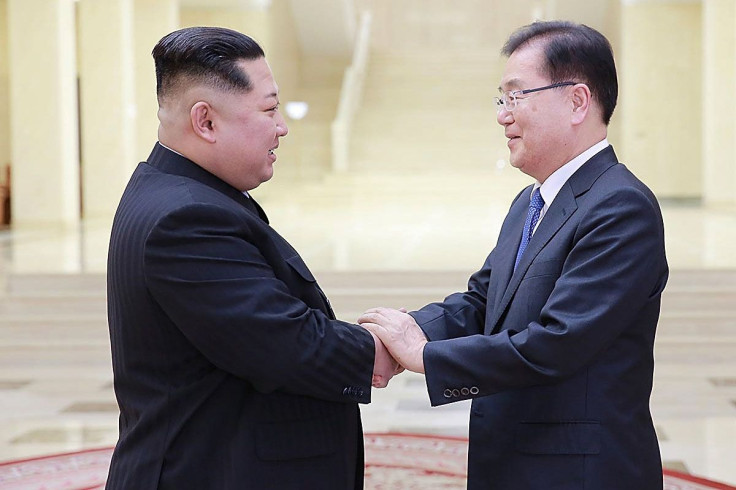 After it was reported North Korean leader Kim Jong Un sent President Donald Trump a "very warm" letter, requesting him for a second summit between Washington and Pyongyang, South Korean President Moon Jae-in weighed in on Tuesday, stressing on the importance of continued talks of denuclearization between the two nations.
"Complete denuclearization of the Korean Peninsula is basically an issue that must be resolved through negotiations between the North and the United States," Moon said in a weekly Cabinet meeting at his office Cheong Wa Dae, Yonhap News reported. "But we cannot but work to mediate and promote in the middle until talks and communication between the North and the U.S. become more active."
He also added, "President Trump, as well as Chairman Kim Jong-un, are asking me to play such a role."
Furthermore, Moon stressed on the importance of Trump giving the matter a broad thought and making "bold decisions" in order to improve diplomatic relations with Pyongyang and, in turn, ensure the complete denuclearization of the state.
"North Korea must carry out its nuclear dismantling and the United States must take a corresponding step," Moon said. "Under such a process, the two countries must pull back their deep-rooted mutual distrust caused by their 70 years of hostile relations."
Steve Biegun, the new United States special envoy for North Korea, echoed Moon's thoughts during a visit to Seoul, Tuesday.
"We have some hard work to do. But we also have tremendous opportunity created by President Trump, by President Moon and by Chairman Kim. We need to do everything we can to make the most of this moment of opportunity," Biegun said.
Meanwhile, military talks between both the Koreas have been scheduled ahead of Moon's visit to the North next week for his third bilateral summit with Kim, South China Morning Post reported.
The talks are scheduled to take place Thursday at the border village of Panmunjom in North Korea. According to South Korea's defense ministry, some of the topics included in the talks will be disarming a jointly controlled area at Panmunjom, removing front-line guard posts and conducting joint searches for soldiers who went missing during the Korean War.
On Sunday, Trump took to Twitter to praise North Korea for refraining from displaying ICBMs in their 70th founding anniversary parade, claiming that it was a deliberate move by Kim to appease him.
"North Korea has just staged their parade, celebrating 70th anniversary of founding, without the customary display of nuclear missiles. Theme was peace and economic development. 'Experts believe that North Korea cut out the nuclear missiles to show President Trump its commitment to denuclearize.' @FoxNews This is a big and very positive statement from North Korea. Thank you To Chairman Kim. We will both prove everyone wrong! There is nothing like good dialogue from two people that like each other! Much better than before I took office," he wrote in two different tweets.
© Copyright IBTimes 2023. All rights reserved.