Kim Jong Un's Wife In Danger After Losing Power Battle To North Korean Leader's Sister?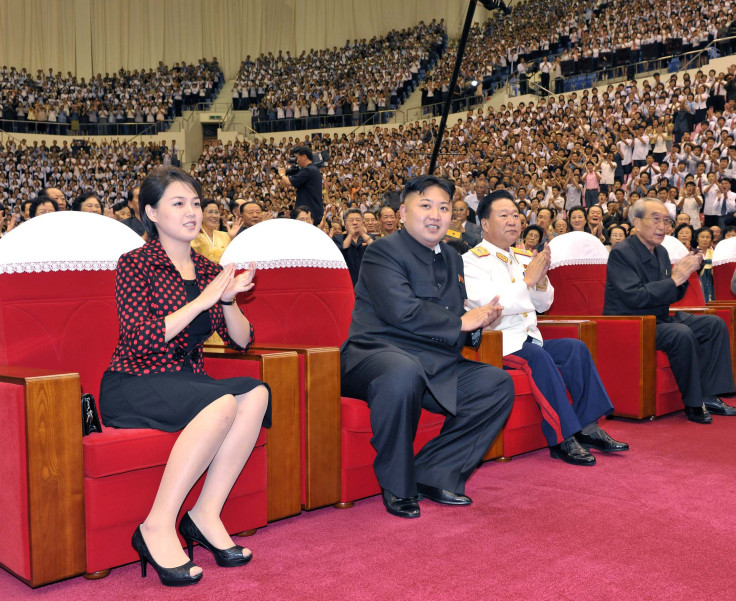 The wife of Kim Jong Un may have reappeared in public last month, but she is losing a battle of power to the North Korean leader's sister, a former diplomat for the regime said this week.
Instead of Ri Sol Ju, whose life has been shrouded in mystery since she emerged as Kim's wife in 2012, it is Kim's sister, Kim Yo Jong, who wields significance over the young leader. That's the verdict of Thae Yong Ho, the former North Korean deputy ambassador to London, who defected to South Korea last August and has since become an outspoken and gregarious critic of the isolated North's regime.
It is Ri's status as a "commoner" in North Korea's class system that means she has little influence over her husband, while Ri directs all major public events, Thae told South Korea's Maeli Broadcasting Network, UPI reported Tuesday, in one of his many media appearances.
That Ri wields significantly less influence compared to her sister-in-law has long been reported out of North Korea. Indeed, it was cited as a reason for concern during her recent extended absence from public view.
Kim Yeo Jong was promoted to a position of vice-director in the Workers' Party Central Committee in 2014, And last September she displayed her increased power by sending several high-ranking party officials for "re-education," a humiliating process for her elderly superiors, reported South Korea's Chosun Ilbo. Meanwhile, since the promotion of Kim Yeo Jong, who now has a primary role in the huge propaganda efforts of the regime, the editor-in-chief of the state-run Rodong Sinmun daily newspaper has been replaced twice.
It has even been reported previously that Kim Jong Un's sister may have stepped up to a leadership role in the country, taking care of daily responsibilities. She is seen in public far more often than Ri.
While senior officials stand to show respect to his sister, Kim Jong Un's wife cannot criticize her husband, according to Thae. Indeed, it is not even clear whether Ri "has captured Kim's heart," Thae said.
It was only last month that Ri, of whom little remains known, made her first public appearance in nine months. That contrasts sharply with the numerous appearances she made alongside Kim during the first three years since she was confirmed as the leader's wife in 2012.
Speculation was rampant before her reemergence that she might be pregnant with a second child or that she was being kept hidden due to instability in the regime and questions over Kim's authority. But it was also suggested that she may have incurred the wrath of Kim or his sister. Kim has been responsible for numerous executions over high-ranking officials, including his own uncle and the country's defense minister.
A report this week also claimed that Kim may be planning a purge of senior officials in Pyongyang.
© Copyright IBTimes 2023. All rights reserved.