Kimi Raikkonen Happy To Join Sauber, Credits Rally Stint For F1 Longevity
Kimi Raikkonen has been in Formula 1 for well over a decade and has always known to be a driver of very few words. It is not a secret that getting the Finn to give lengthy answers during an interview is almost impossible.
But the Ferrari driver sat down with Formula 1 reporter Will Buxton for a wide-ranging and frankly a hilarious interview ahead of the Brazilian Grand Prix this week. Raikkonen spoke about his recent foray into social media platform Instagram, his love for speed and why he doesn't care what his contract says.
The 39-year-old – the oldest driver on the grid – also delved into more serious subjects with regard to his switch to Sauber in 2019 after spending the last five years fighting for podium places with Ferrari.
It did come as a surprise when Raikkonen announced a two-year deal with the Hinwil-based team after the Italian team decided to replace the veteran with young rising star Charles Leclerc, who coincidentally impressed in his debut F1 season with Sauber.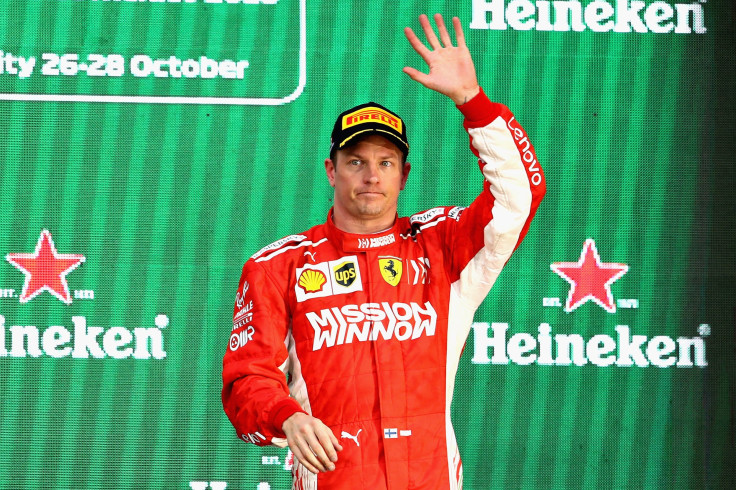 The Swiss-owned team was expected to prop up the rear of the field when the season started but have surprised everyone by challenging the midfield teams on a consistent basis this season. And Raikkonen admitted he is not sad to be leaving Ferrari, but happy to be joining Sauber.
The Finnish racer feels that after a period of struggle, they are now in a "safe place" financially to hire the right people and build a competitive car that will allow him to race competitively in 2019.
"I am actually very happy where I am going and we'll see how it turns out to be, it is impossible to say now," Raikkonen said during the interview. "Many stories in the past suggesting that it is not going to be good. It's not that guaranteed, but hopefully, we will have a good go."
"Ya obviously, I know the people. They have a good group of people, they have everything that is needed to build a good car, and it is just a matter of doing it. They have come out from a pretty difficult year where they have been struggling with money and now they are in a safe place. They are trying to hire the people they lost [during the difficult times]. It takes time but they have done a good job this year," he explained.
Raikkonen was expected to retire when Ferrari refused him a new contract, but the Finn, whose motivation has been regularly questioned, will likely be driving an F1 car when he celebrates his 41st birthday in 2020.
He admitted that he did not envision himself driving in F1 at 39 when he entered the sport in 2003, but admitted with a laugh that he kept coming back and time has just gone by. Raikkonen took a two-year sabbatical from F1 in 2010 and 2011 and admits that his time away from the sport has contributed hugely for his longevity.
"No, no! My plan was probably until I was 30, but kept coming back. I think it was important to have a few years off, without that I would not be here today," Raikkonen added.
© Copyright IBTimes 2023. All rights reserved.