Kinder Surprise Chocolate Eggs Brought Into Corporate Battles, Gun Debates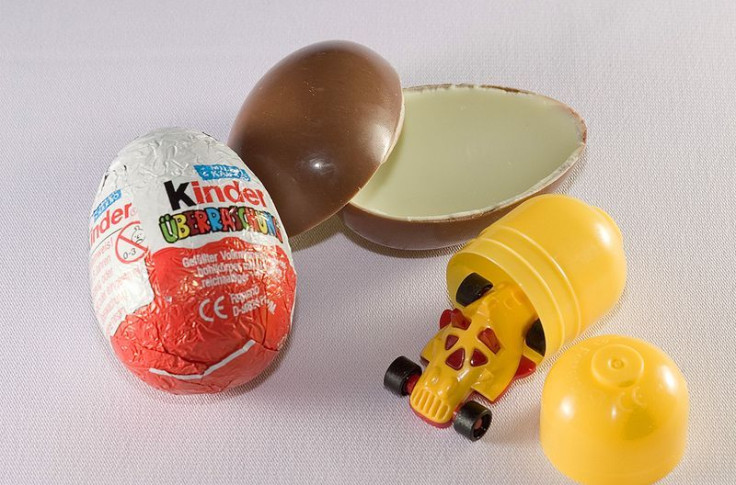 There is a scourge at the Canada-U.S. border. Every year armed officers seize tens of thousands of the small yet dangerous foil-wrapped packages -- and it gets worse around Easter.
Although a recent viral report claiming that U.S. officials had cracked a Canadian chocolate egg smuggling ring was a satire, the ban on Kinder Chocolate Eggs in the United States is real. The ban stems from a legal precedent set in the 1930s, yet the hollow chocolate eggs with small toys inside them remain a problem for border officers, have pitted candy giants Nestle and Mars Inc. against each other, and have even been pulled into the American gun debate.
"Kinder eggs are prohibited just like narcotics are prohibited," U.S. Customs and Border Protection officer Mike Milne told the National Post after two American tourists were caught with six of the contraband candies in their trunk in 2012. He said the eggs have been "an ongoing problem for years."
Unaware that the candy is banned in the United States, Chris Sweeney and husband Brandon Loo of Seattle managed to escape the possible fine of $2,500 per egg. The couple did spend more than two hours in a detention center when authorities found six Kinder eggs in their trunk, however, according to the Canadian Press.
They weren't the only ones. U.S. Customs and Border Protection data show that the agency seized more than 60,000 eggs from travelers' baggage and international mail shipments in 2011. These numbers were confirmed by spokesman Anthony Bucci, who said the eggs are seized on behalf of the Consumer Product Safety Commission (CPSC,) the only agency with border security authority.
The hollow chocolate eggs manufactured by Ferrero Group, the Italian candy maker also known for the popular chocolate hazelnut spread Nutella, contain plastic capsules that hold small toys and puzzles for children to assemble, and they are marketed to children ages 3 to 8.
Since production began in 1974, the company has sold more than 30 billion Kinder Surprise eggs around the world. But in the United States, they are prohibited by Section 402 (d)(1) of the 1938 Federal Food, Drug and Cosmetic Act, which bans any candies with non-nutritive objects "embedded" inside them.
In March this year, the Food and Drug Administration published an import alert on the candies, ordering they be detained when travelers try to bring them into the country.
"The Agency was made aware of a product called 'Kinder Surprise Eggs,' and similar articles containing imbedded, non-nutritive objects, being offered for sale in the United States," the alert says, adding that the plastic toys "may pose a public health risk as the consumer may unknowingly choke on the object."
Though the original law is nearly a century old, it came up for debate in the 1990s. In August, 1997, Kreiner Imports Inc. of Chicago said it would voluntarily recall 5,000 Kinder eggs to cooperate with the U.S. Consumer Product Safety Commission (CPSC.)
It was the same year that Nestle USA Inc and Mars Inc. went to war over a copycat product. The Nestle Magic was a hollow chocolate globe surrounding a plastic shell with a Disney toy inside.
Though the Consumer Product Safety Commission ruled the candy didn't violate its safety regulations, the Food and Drug Administration wrote to Nestle in July 1997 saying it violated the 1938 Food and Drug Act.
Leading the charge was an elite group of consumer lobbyists known for taking on big adversaries. Soon after Carol Tucker Foreman criticized the product, supermarket chain Stop and Shop announced it would no longer sell them. Also on the team was Connecticut State Atty. Gen. Richard Blumenthal, who called on officials to address the issue "before Nestle Magic could become Nestle tragic," according to the L.A. Times.
Though Mars Inc. representatives originally denied involvement in the effort, the company later acknowledged that it had picked up the tab, according to the Times.
In September 1997, Mars executives wrote a letter to the Food and Drug Administration saying it had joined critics because "we care about the public interest," according to the Washington Post. A month later, Nestle announced that it would discontinue sales of its competing product, telling the L.A. Times that the company felt its candy was safe but took it off the market due to "an unresolved technical, legal problem."
In 2013, Mars Inc. spent $1.99 million on lobbying efforts, according to data from the Senate Office of Public Records that was compiled by OpenSecrets.org. Nestle spent a total of $4.8 million in the same year, with the vast majority going toward food processing and sales.
The 1997 fight wasn't the first time toy-filled chocolate eggs came under fire. In 1989, the candies were discussed in British Parliament after a child died from choking on a small piece.
Though officials admitted it was a "tragedy," they determined that "it would be wrong to seek to ban the product," and that "parents must always satisfy themselves that anything that their young children have, use or play with is used safely and responsibly."
Though statistics are difficult to come by, between 1999 and 2000, at least seven children around the world died from choking on Kinder Surprise toys, according to the Birmingham Post & Mail.
Despite its contraband status in the United States, there are still some who advocate for Kinder Surprise.
A website entitled "Free The Egg: Life, liberty and the pursuit of chocolate" is the front for a movement dedicated to bringing the treat back to Americans.
"An obscure 1939 law has kept the fun chocolate eggs with amazing toys on the inside from the hands of millions of American children. We are striving to reverse the law," reads its Facebook page, which has more than 2,000 likes.
Their online petition that begs American officials to "please look into this matter and help us restore the Ferrero Kinder Egg to shelves in the United States," has garnered more than 4,000 signatures.
But the chocolate egg has been drawn into an even larger and more politically fraught debate about child safety in the United States.
"Why is it easier for an American to buy an assault weapon than it is to buy a chocolate Easter egg," said Shannon Watts, founder of Moms Demand Action for Gun Sense in America, in a public statement last March.
"It doesn't make sense that a chocolate Easter egg is regarded as more hazardous to our children's safety than an assault weapon," she said.
© Copyright IBTimes 2023. All rights reserved.
FOLLOW MORE IBT NEWS ON THE BELOW CHANNELS