Kirk Cousins Replaces Robert Griffin III And Sets Twitter Ablaze With RG3 Tweets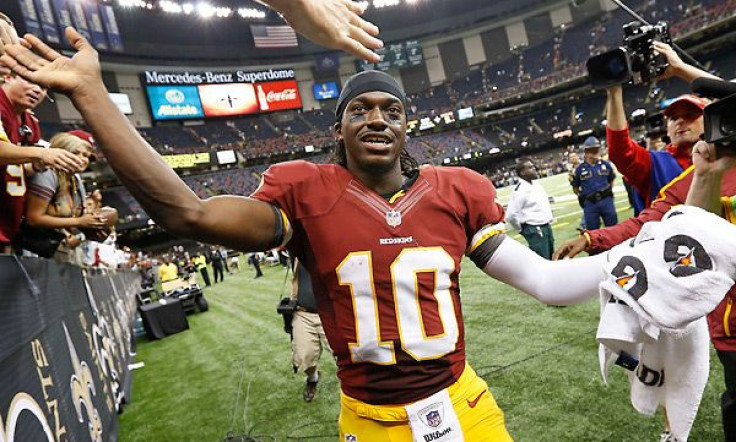 Twitter was abuzz on Wednesday after it was announced the NFL's Washington Redskins would be benching quarterback Robert Griffin III, also known as "RG3," for Kirk Cousins. Coach Mike Shanahan reportedly made the decision to pull the star athlete after the team struggled to meet the same success as their 2012 season. An ironic decision, many think, since the coach chose to allow the athlete to continue to play and then take him out of the game when he seemed to be healed.
The coach only has one season left on his contract with the team, and whether or not he stayed with the franchise has reportedly been in jeopardy. Shanahan explained why he chose to take the athlete out, and when he made the decision to do so, he said he talked with GM Bruce Allen and owner Dan Snyder.
"You've got to take a look at the risk and reward," Shanahan said, according to USA Today. "And with Robert I thought that his hits were piling up on him, giving him his toll, and I was afraid that we would set him back."
Cousins practiced with the team on Wednesday while Griffin watched from the sidelines. "Although it's a tough time," USA Today quoted the 23-year-old, "at the end of the day, I still feel blessed to be in the NFL, be with the guys in that locker room.
"You just have to look at life in a different way in times like these and try to find a way to make it better." RG3 even added that he would help Cousins prepare for Sunday's game against the Atlanta Falcons. "I promise I'll be there for him every step of the way."
When the news made it to Twitter, "RGIII" became one of the top trending topics in the nation. Some found humor in the fact that Griffin was getting benched. Others agreed with Shanahan's decision and said they would have made the choice earlier in the season. A few were expressed they were anticipating how Cousins would play against the Falcons in this week's game. The ironic fact that Shanahan played RG3 when he was injured and then benched him when he was seemingly healthy, also made into many tweets. Check out Twitterati comments below:
Follow me on Twitter @mariamzzarella
© Copyright IBTimes 2023. All rights reserved.