Klay Thompson Preferred Over Kawhi Leonard By Lakers In 2019: Report
The Los Angeles Lakers will undoubtedly be looking to add a high-profile free agent to their roster next year, and while many believe it will be Kawhi Leonard, they are said to prefer Golden State Warriors guard Klay Thompson.
Leonard made headlines this summer when he wanted out of the San Antonio Spurs in favor of a move to his native Los Angeles. The Lakers seemed to be the favorites, but with Leonard having one year left on his deal, the Spurs were not prepared to trade him without getting a fair bit in return.
The L.A. franchise instead opted to wait another year when Leonard became a free agent as he was eventually traded to the Toronto Raptors. Despite Raptors president Masai Ujiri's hope of keeping the 28-year-old beyond 2019, there is an expectation that Leonard will leave for Los Angeles next year.
However, it may not be to join LeBron James as, according to ESPN's Ramona Shelburne, they may prefer Thompson instead.
"In terms of who they target next year, it's whoever wants to come," she said in an appearance on "ESPNLA Mornings with Keyshawn, LZ and Travis," as quoted on Silver Screen and Roll. "My feeling about it, my sense from just talking to people in and around this (is that) one, it's a little early, but I think they like Mychal's boy [Klay]."
"I think that would be the guy, in terms of skill-set and how that would fit. Obviously Kawhi, he's a great player as well, but we'll see if he stays in Toronto now. But I think they like Klay," she said.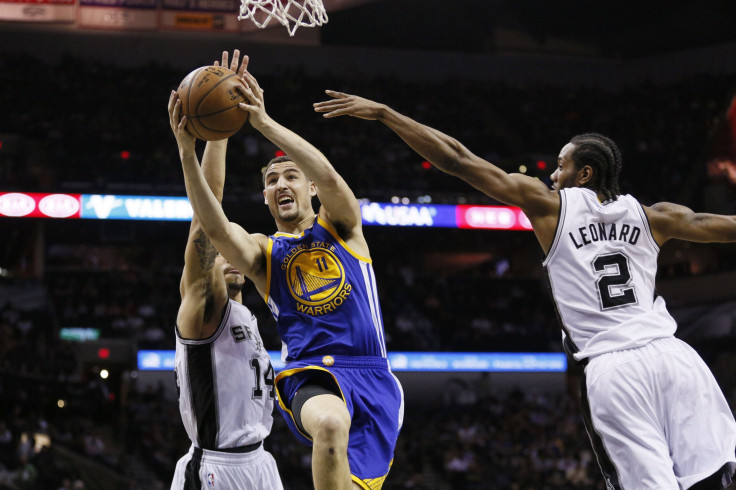 Like Leonard, Thompson is also set to be a free agent in 2019. While many would expect him to remain in the Bay Area, especially as he helped the side to three championships in the last four years, a move to the Lakers is not completely out of the question.
The All-Star has worked with Lakers head coach Luke Walton from the latter's time with the Warriors, while Thompson was also born and raised in Los Angeles with his father, Mychal, winning a pair of titles with the Lakers in the eighties.
However, Shelburne also pointed out that the possible scenario of him joining the Lakers is still unlikely in reality.
"That would be an idea, but Klay to me feels like a Warrior for life if everything stays the same with what they've got going up there," she added.
Thompson will also be eligible for a supermax deal after next season, provided he gets into another All-NBA team. In addition, he stated last month he was committed to Golden State for life.
"I've said it many times before: I would like to be a Warrior for life," Thompson told the Mercury News. "Contract negotiations are way down the line. But I think we all have the same interest. I would love to be here for the rest of my career."
"It's tough to say. I'd definitely be interested [in taking a discounted contract]. But at the end of the day, I'm going to be a free agent in 2019. Number one on my list would obviously be to stay with the Warriors," he added.
© Copyright IBTimes 2023. All rights reserved.