Klay Thompson To Lakers? Warriors' Andre Iguodala Implies Luke Walton Recruiting Him
Golden State Warriors forward Andre Iguodala implied Monday that Los Angeles Lakers head coach Luke Walton was recruiting Klay Thompson for his team next year.
Thompson is set to become a free agent in 2019 and there are rumors and reports stating the All-Star could possibly join LeBron James at the Lakers.
And with Thompson and Walton both seen together in Qatar recently along with Carmelo Anthony and Tracy McGrady, Iguodala noted his observation on Twitter.
While there might be a hint of tongue-in-cheek with that tweet, especially as there would be a tampering fine for the Lakers if that were the case, they do seem to be interested in the 28-year-old. Their top target is Kawhi Leonard, but a three-time champion in Thompson would not be a bad backup plan at all.
In addition, he has worked with Walton from the latter's time with the Warriors, and was born and raised in Los Angeles with his father, Mychal, winning a pair of titles with the Lakers in the eighties.
ESPN commentator Stephen A. Smith also believes Thompson joining the Lakers would result in a first championship for them since 2010.
"Under no circumstances am I saying is Klay Thompson is better than Kawhi Leonard [or Kevin Durant]. What I'm saying is because you have LeBron James, the best thing is Klay Thompson," Smith recently said. "Klay Thompson has averaged better than 20 points per game or better than 46 percent shooting for the last six years. Klay Thompson is universally recognized as one of the greatest shooters this game has ever seen."
"Do I believe that the Golden State Warriors minus Klay Thompson with Klay Thompson on L.A. would beat the Warriors? Yes I do, yes I do," he said.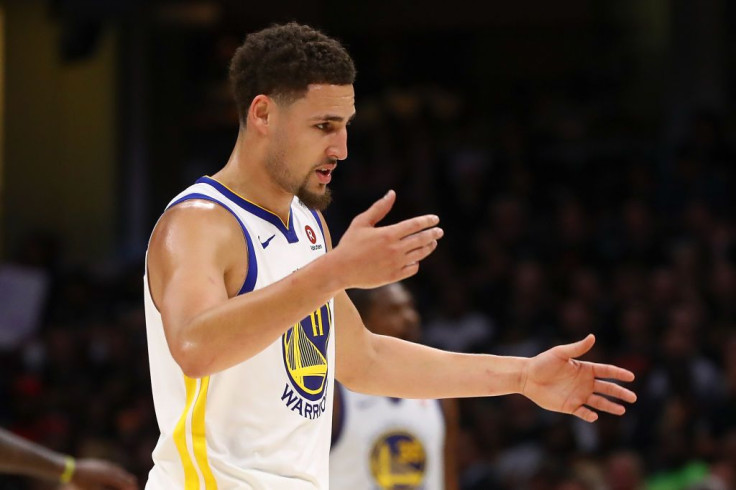 However, the chances still seem slim. 72.7 percent of a recent ESPN panel believe he will stay with the Warriors and it's not hard to see why. Thompson could likely win a fourth championship in five years this upcoming season, and potentially even more down the line.
He is eligible for a supermax deal with the Warriors next summer as well, provided he gets into another All-NBA team, while his father also believes he will retire in the Bay Area.
"Oh yeah, you can mark it down. Klay's going to retire in the Warriors' uniform," Mychal said last month. "He's going to play at Chase Center [which opens in 2019], and he's not going to be at Chase Center as a visiting player, he's going to be a Warrior for the next seven or eight years. He's got such a good thing here. The Warriors have such a special thing here. For the next six or seven years they're going to be championship material, they're not going to break that up."
"The Chicago Bulls (with Michael Jordan) were broken up too prematurely. (Warriors owners) Joe Lacob and Peter Guber aren't going to let that happen. Are you kidding? They can afford it. They're the Warriors, this is the Bay Area, they got a beautiful arena, and money's no object for this team," he said.
Crazier things have happened though, so it's not something to be completely ruled out.
© Copyright IBTimes 2023. All rights reserved.