Klay Thompson Will Retire As A Warrior, Father Says, Curry Also Commits
Klay Thompson is going to end his basketball career as a Golden State Warrior, according to the shooting guard's father Mychal Thompson.
The Warriors star will be eligible to become an unrestricted free agent in 2019, which will allow him to move to the franchise of his choosing for the 2019-20 season.
Thompson is a vital cog in the Warriors machinery and has been instrumental in their recent domination of the NBA, which has seen them win three of the last four championships. He has formed a great partnership with Stephen Curry — the flagship player of the franchise.
He will be eligible to sign a new deal next summer and his father confirmed he will re-sign with the reigning NBA champions and sees his long-term future with the Bay Area team.
"Oh yeah, you can mark it down. Klay's going to retire in the Warriors' uniform," Thompson Sr. said, as per CBS Sports. "He's going to play at Chase Center, and he's not going to be at Chase Center as a visiting player, he's going to be a Warrior for the next seven or eight years."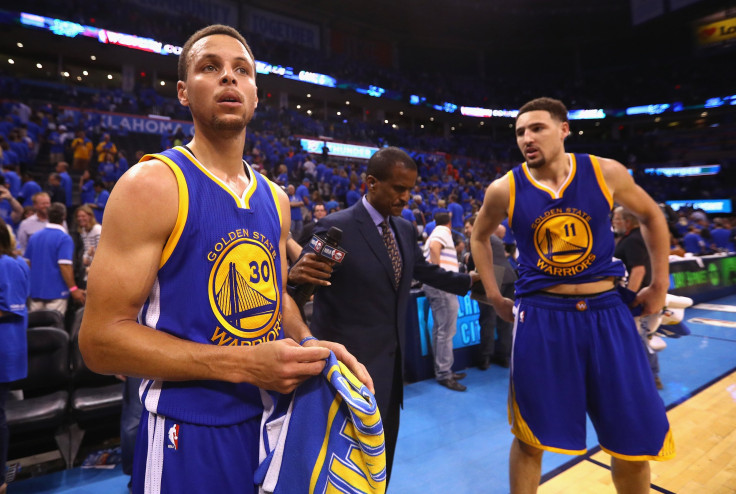 Thompson's father insisted there is no reason to leave the Warriors as he has established himself as one of their key players and gets along well with the rest of the team that includes Curry and two-time NBA Finals MVP Kevin Durant among others.
Warriors have won back-to-back NBA titles and are favorite to pick up the championship ring yet again in 2019. There are very few betting against them making the finals and the shooting guard's father believes the Warriors owners will not let their championship winning team break up.
"He's got such a good thing here," Thompson's father added. "The Warriors have such a special thing here. For the next six or seven years they're going to be championship material, they're not going to break that up."
"The Chicago Bulls (with Michael Jordan) were broken up too prematurely. (Warriors owners) Joe Lacob and Peter Guber aren't going to let that happen. Are you kidding? They can afford it. They're the Warriors, this is the Bay Area, they got a beautiful arena, and money's no object for this team."
The news of Thompson's commitment will come as a boost to the Warriors, and it coincided with Curry's comments admitting he could spend his entire career with the Warriors.
The five-time All-Star is contracted to the Bay Area team until 2022, and was asked if he sees himself end his career in California. The other option would be to return home to Carolina to play with the Charlotte Bobcats, where his father Dell Curry spent 10 of his 16 years in the NBA.
"For sure I do. This is home. This is where I want to be, for obvious reasons," he said when asked if he might end his career with the Warriors, as per the Express. "I love the Bay Area, man. The only reason I go home now is if my sister's getting married or to go play the Hornets for that one game, so I haven't really been back much. I haven't put my mind there."
© Copyright IBTimes 2023. All rights reserved.