Kobe 'Vino' Bryant: L.A. Lakers NBA Star Earns New Nickname As He Ages Like A Fine Wine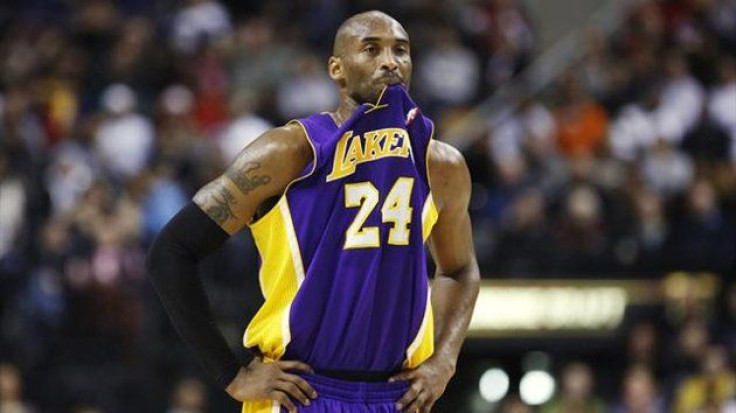 Kobe Bryant has earned him the new nickname, "Vino," thanks to his impressive game stats and performance so far this season.
The Italian and Spanish word translates to "wine," and, like a fine wine, Bryant, 34, seems to just be getting better with age.
Sunday night, Bryant led the Los Angeles Lakers to beat the Atlanta Hawkks 99-98 with a game-winning layup and 34 points overall. The Lakers have also won 13 of their past 18 games.
The nickname is also fitting as Byrant grew up in Italy while his father played there and speaks the language fluently.
After the Lakers beat the Minnesota Timberwolves 116-94 last Thursday, in which Bryant scored 33 points, he tweeted, "My man just gave me a new nickname and I love it! Ha #vino." It is unclear who the man is who gave Bryant the new nickname.
It is a major deal that Bryant is still one of the leading scorers in the NBA. Basketball legend Michael Jordan first retired from the game when he was 30 years old. Bryant will be celebrating his 35th birthday in less than six months and has been in the NBA for 16 years, never having left the Lakers.
The shooting guard recently won Olympic gold in London with the U.S. men's basketball team, where he scored 17 of the team's 107 points.
Last year, there was speculation as to if or when Bryant would retire, and even the superstar spoke about his thoughts on leaving the league.
He sat with Graham Bensiger of the Huffington Post and spoke extensively about his age and how he trains differently now than when he first joined the NBA at the age of 19.
"You have to evolve. So like the things I was doing when I was 19 years old to prepare and to train in terms of the explosiveness ... the impact I would put on my body, the stress levels I would put on my body to train and prepare -- I can't do the same things now at 33 years old [be]cause it would be counterproductive," Bryant said to Bensinger.
While Bryant used to bank 1,000-1,500 shots during practices in the off-season, he now aims for 600-800, he said.
When asked about the decline, he said, "Because of my body ... you just can't take that much of a workload. You've got to balance it out."
There is no question that Bryant still has many more great years of playing left in him. If he decides not to retire anytime soon, he will be in good company. One of the greatest players in NBA history, Patrick Ewing, did not retire until 2002, after 17 years in the league. He was 40 years old. All-star Reggie Miller was 39 years old when he announced his retirement from the Pacers at the end of the 2004-2005 season.
© Copyright IBTimes 2023. All rights reserved.