Kony 2012: Everything To Know Including Who Is Joseph Kony, What Is 'Kony 2012,' Should You Donate, Invisible Children Alternatives, More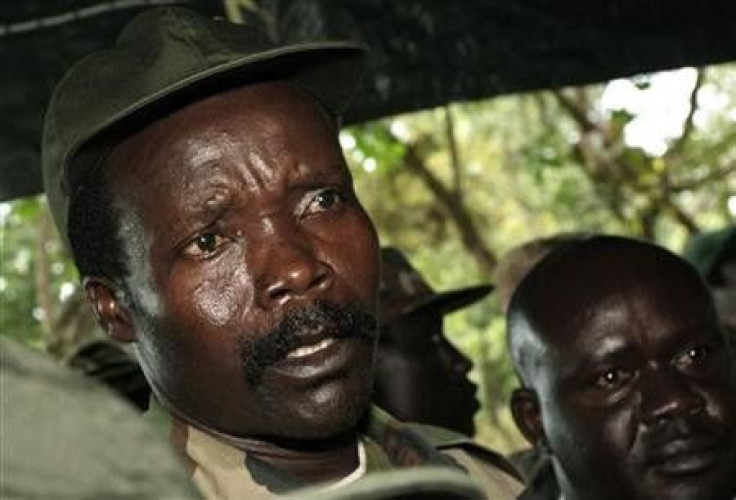 Over the past week, Joseph Kony, the Ugandan warlord, has surfaced in major news outlet headlines and social media posts. The interest was sparked by a new documentary, Kony 2012, which was posted online by the U.S.-based group Invisible children. The atrocities that the warlord has committed are highlighted throughout the film and urge viewers to take immediate action against the warlord by donating to the non-profit group Invisible Children.
For those that are still confused by the movement and are looking for a handful of cold, hard facts, we've gathered the top five things anyone interested in learning more about Joseph Kony. Here is the most pertinent information about Kony 2012 and the Ugandan warlord Joseph Kony:
1. Who is Joseph Kony?
Joseph Kony is the leader of a Ugandan guerrilla group leader. He is the head of Lord's Resistance Arm (LRA). The army is known for its brutality. The group has murdered, mutilated, raped and even cannibalized civilians. The LRA is known for abducting thousands of children and forcing them to fight for the army. World Vision, a development and advocacy organization, estimates that the LRA has abducted more than 30,000 children.
2. What Is Kony 2012
Kony 2012 is a 30-minute video created by the non-profit group Invisible Children Inc., who posted it to YouTube and Vimeo. The video was posted to YouTube on Monday and captured more than 70 million views by Friday morning, which makes it the fast-spreading viral-video ever according to a Wall Street Journal report. The video highlights the atrocities committed by Joseph Kony and his army, the LRA. It asks viewers to take action by donating to the non-profit group that created the video, Invisible Children.
3. What Is The Goal Of Kony 2012?
The group would like to draw more attention to the atrocities committed by Joseph Kony. Invisible Children has been working for 9 years to end Africa's longest-running armed conflict. U.S. military advisers are currently deployed in Central Africa on a time-limited mission to stop Kony and disarm the LRA. If Kony isn't capture this year, the window will be gone, says Invisible Children.
Invisible Children also says this on its website: Invisible Children's 'Kony 2012' campaign aims to make Joseph Kony famous, not to celebrate him, but to raise support for his arrest and set a precedent for international justice. In this case, notoriety translates to public support. If people know about the crimes that Kony has been committing for 26 years, they will unite to stop him.
4. Should You Donate To Invisible Children Inc.?
You do not have to donate to Invisible Children in order to help people in Uganda. Some people have been particularly critical of Invisible Children's budget, which included $1,074,273 dedicated to travel and $1,724,993 allocated to staff compensation.
Alternatives to Invisible Children include Uganda Village Project, Uganda Rural Fund, Universal Giving and World Vision. You can also search for charities using The Big Give. Please review the donation process and where funding will go before making a donation. Each group is different and will allot funding differently.
5. Has Anyone Tried To Stop Joseph Kony and the LRA?
Yes, many people have tried to stop Joseph Kony and his army. In May 2010, President Barack Obama signed into the law the Lord's Resistance Army Disarmament and Northern Uganda Recovery Act. The effort was aimed at putting an end to Kony's antics. Joseph Kony remains one of the most wanted men in the eyes of the International Criminal Court.
Here's what ICC says about Joseph Kony:
Mr Kony is allegedly criminally responsible for thirty-three counts on the basis of his individual criminal responsibility (articles 25(3)(a) and 25(3) (b) of the Statute) including:
Twelve counts of crimes against humanity (murder - article 7(1)(a); enslavement - article 7(1)(c); sexual enslavement - article 7(1)(g); rape - article 7(1)(g); inhumane acts of inflicting serious bodily injury and suffering - article 7(1)(k)); and,
Twenty-one counts of war crimes (murder - article 8(2)(c)(i); cruel treatment of civilians - article 8(2)(c)(i); intentionally directing an attack against a civilian population - article 8(2)(e)(i); pillaging - article 8(2) (e)(v); inducing rape - article 8(2)(e)(vi); forced enlistment of children - 8(2)(e)(vii)).
© Copyright IBTimes 2023. All rights reserved.
FOLLOW MORE IBT NEWS ON THE BELOW CHANNELS