Kristin Chenoweth: Former 'Wicked' Star Sings Anthony Weiner Parody Song On 'The Tonight Show With Jay Leno' [VIDEO]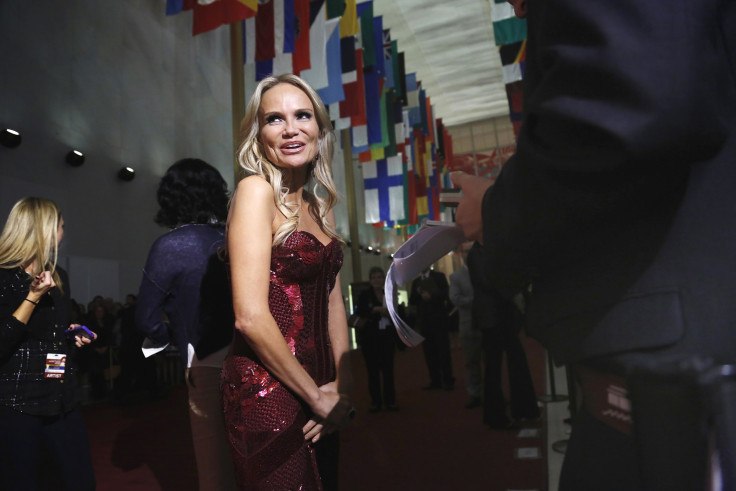 New York City mayoral candidate Anthony Weiner continues to be the butt of jokes in the aftermath of his second sexting scandal. Actress and singer Kristin Chenoweth is the latest person to skewer the disgraced politician when she appeared on "The Tonight Show with Jay Leno" on Tuesday night.
The 45-year-old star took the stage and delivered a scathing parody of Weiner's recent travails to the tune of "Popular," a signature song from the hit musical "Wicked" which Chenoweth famously starred in.
"Don't worry, Carlos Danger is no more, he's out the door," Chenoweth began, referring to Weiner's infamous online pseudonym.
Chenoweth then directly addressed Weiner's scandal with song lyrics which pulled no punches. "I'll teach you to zip your fly, you won't be that guy with a camera down his pants," Chenoweth sang. "I'll teach you what tweets to tweet, something clean and sweet/ We'll make sure you get your chance to be popular, the right kind of popular/ They'll think you became a monk, though they've seen your junk/ Now you'll play a different show, so let's start because you have an awfully long way to go/ Long . . . well . . . "
Chenoweth also had some words for Weiner's wife, Huma Abedin, who has faced criticism for standing by her husband during the scandal. "Oh think about your dear wife, Huma, hope she's got a sense of humour," Chenoweth sang. "She should take a page from Hillary, and become independent of her hubby/While you score that chatroom chubby/With all her brains and knowledge she should be free to be popular."
"Seriously Huma, woman to woman, if that guy doesn't zip up and unplug, just kick him to the curb," Chenoweth said in spoken word.
As E! Online points out, Chenoweth gave Weiner advance warning of the song via Twitter. "#weiner I have a song of advice for you.....watch the #TonightShow @jayleno TONIGHT," she tweeted before her appearance aired.
"@composerstephen thank you for writing Popular. And for 'ok-ing' the Weiner song," she added, referring to "Wicked" composer Stephen Schwartz.
© Copyright IBTimes 2023. All rights reserved.
FOLLOW MORE IBT NEWS ON THE BELOW CHANNELS