Kuwait Mosque Attack Update: Driver Of Suicide Bomber's Car Arrested As Thousands Attend Group Funeral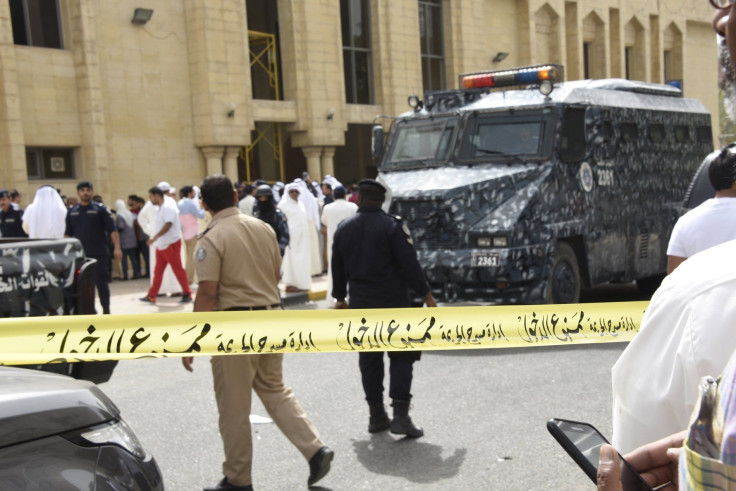 Kuwaiti officials have detained the driver of the car that transported a suicide bomber to a Shiite mosque where more than two dozen people were killed Friday, the Kuwait News Agency reported Saturday. The driver, Abdulrahman Sabah Eidan Saud, reportedly was living in the country illegally. Authorities began searching for him after the bombing at al-Imam al-Sadiq Mosque and found him hiding in an alleged extremist's house south of Kuwait City.
The driver was one of "numerous arrests" that have been made as the Interior Ministry investigates the bombing, which killed 27 and injured 227 people at the mosque, Reuters reported. About 2,000 people were praying -- likely a higher-than-normal number because of the Muslim holy month of Ramadan.
A man entered and detonated explosives that crumbled the walls and shattered car windows down the road. A witness said the bomber appeared to be in his 20s.
The Najd Province, a branch of the Islamic State group, took responsibility for the attack. It issued a statement Friday saying the bomber, named as Abu Suleiman al-Muwahed, intentionally targeted the "temple of the rejectionists." Shiite Muslims account for about a third of Kuwait's population, according to previous International Business Times reporting.
A mass funeral for the victims was held Saturday, which was declared a national day of mourning. The ceremonies drew thousands of people waving mourning banners and chanting "Sunnis and Shiites are brothers," USA Today reported. More than 1,200 Kuwaiti citizens have given blood since the massacre.
"The blast was meant to tear asunder the fabric of the well-knitted Kuwaiti society by fomenting sectarian divisions and conflicts," the country's ruler, Sheikh Ahmad al-Sabah, said in a statement. "But that would not happen as Kuwaitis value their unity and societal solidarity."
Kuwait was one of three countries that saw terror attacks Friday. About 40 people were killed at a beach resort in Tunisia. In France, one person was found decapitated and two others were injured in an explosion at a factory.
© Copyright IBTimes 2022. All rights reserved.
FOLLOW MORE IBT NEWS ON THE BELOW CHANNELS