Kyrie Irving Explains Nike, Pepsi Deals, Earned $14 Million Through 2018 Endorsements
Kyrie Irving was invited to the Forbes under 30 summit to speak to fellow individuals interested in business and the Boston Celtics point guard revealed after that he was delighted to reveal a side not seen when he is on the basketball court.
The 26-year-old is a five-time All-Star and an NBA champion, but during the talk he focused more on how his game on court has helped him grow his brand off the court. Irving spoke about how his fame through basketball opened doors for him to be successful in terms of endorsement deals, but insists his off-court successes also play a key role in helping him remain focused on his game.
The Celtics star also pointed toward other former and current players like LeBron James, Stephen Curry, Kobe Bryant and Magic Johnson, who have built successful careers off the court.
"Being in front of the business students, I got a chance to shed some light on what I do outside the court," Irving said, as quoted on the Boston Globe. "What I do off the court also helps me perform on the court. How I perform on the court has impact on what I do off the court, as well."
"The business deals as well as philanthropy that comes from within. I just try to keep an open mind with my brand who I associate with and trying to be as honest as possible. The decisions I'm making in my life and my career and being OK with it.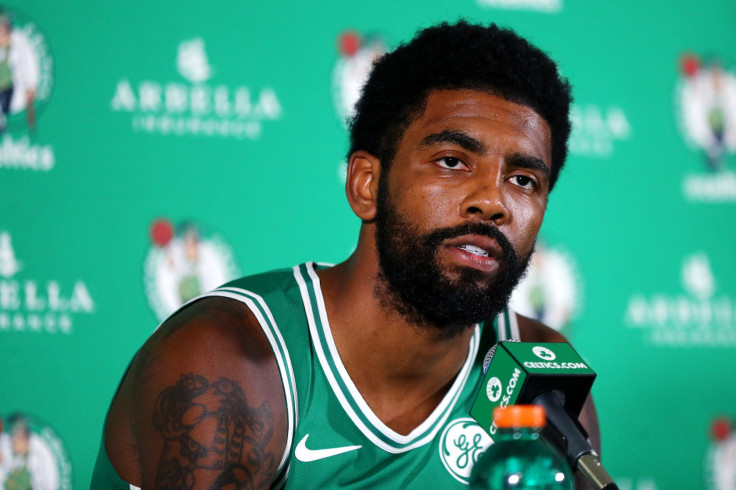 "We have great examples in our league, Steph [Curry ] and LeBron [James ]," the Celtics guard explained. "Silicon Valley is right down the street from Steph, and obviously LeBron has done a great job the way he's marketed his brand, as well as being a global, iconic figure with our league, as well as outside of it."
"You just take as much as you can, great examples like Kobe [Bryant ], Magic, you see the transition they've made from their playing careers to being businessmen, and that's the true echelon of greatness, connect with those guys, pick their brains, and apply it to your life."
Nike, Pepsi Co and Skullcandy are among Irving's major sponsors and the Celtics point guard, who was the sixth highest earning NBA All-Star in 2018 with $14m in earnings, according to Forbes, has explained the relationship he has with his brands and how it was a learning process after initially sticking to the norm of getting endorsements by becoming a brand ambassador.
Irving's deal with Nike sees him perform a more hands-on role in terms of design and color. The American sports apparel and equipment manufacturer recently released the fourth edition of Irving's shoe.
"When they approached me, I thought it was interesting to hear how the [shoe sponsorship] process works. How they identify an athlete, they have focus groups, a group of kids, 14-year-olds, 7-year-olds, 21-year-olds, and ask, 'What do you think about Kyrie?'" Irving said. "The vision I have for my particular brand with Nike is something I don't think they've seen before. I'm really hands-on. I'm really intimate with that group. How Nike has progressed over the years, I think when I came in I had a collaborative mind-set."
However, with Skullcandy, Irving's contract also included a stake in their business along with his own headphone brand. The point guard admits this form of endorsement was new to him, but accepted that there is always a business side to athlete endorsements.
That was at a time where I didn't even know what equity stake meant," The Celtics guard added. "I was so used to the framework of athlete sponsorship of how that works. Over time you just realize there's a business component you have to understand, of time versus value."
Irving also shed light on his deal with PepsiCo and the "Uncle Drew" films, which initially was produced as ad films, and owing to the popularity it was recently converted in a full-fledged feature starring the Celtics star and a number former and current NBA and WNBA stars.
© Copyright IBTimes 2023. All rights reserved.