LA Kings' Stanley Cup Victory Concludes Historic Playoff Run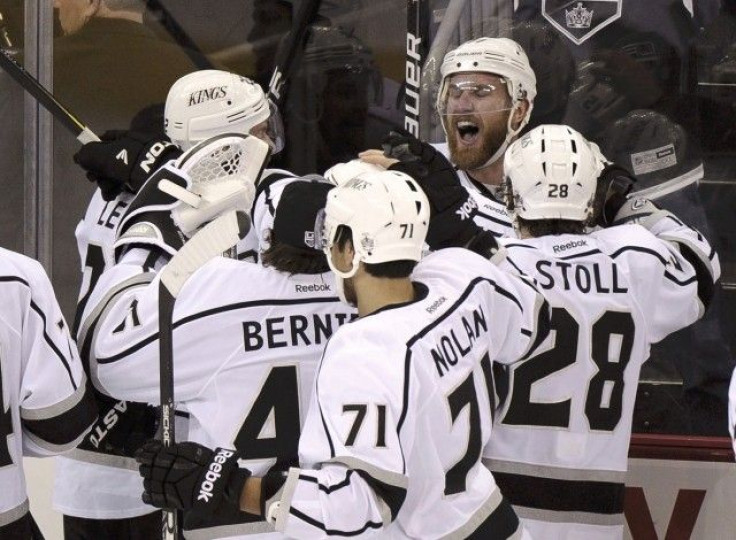 After 45 years, the Los Angeles Kings can now claim their place in history as Stanley Cup champions.
Hoisting the cup on their home ice for the first time ever, the Kings played with vengeance on Monday night at LA's Staples Center, and reclaimed their dominance as they defeated the New Jersey Devils, 6-1.
Every single guy worked so hard for us this season, said Kings defenseman Drew Doughty. Everyone deserves this. We got used to each other, we developed a chemistry, and we just went sailing from there.
Having won their first three games of the series, the Kings seemed to be losing momentum after the Devils took two straight games.
But the Kings prevailed.
Nearly breaking NHL playoff records, the Kings managed to lose only one road game, and finished with a 16-4 postseason record.
You never know. You get to the dance, you never know what's going to happen, captain Dustin Brown said. We calmed down after losing two. It was the first time we had done that all playoffs, and we finally got off to a good start.
The Conn Smythe Trophy, granted to the most valuable player of the playoffs, was not surprisingly given to goalie Jonathan Quick.
Allowing just 29 goals in 20 playoff games, Quick displayed one of the best postseason performances ever by a young goaltender that impressed even Devils goalie Martin Brodeur.
I congratulated him, Brodeur said. I said he deserved the honor of winning the Stanley Cup and being the goalie to win the Stanley Cup. It's always kind of nice for young players to relate. I tried to tell him it was important to enjoy this, because you never know when you're going to get back.
When praised for his accomplishments, Quick shrugged off his accolades and insured that this victory was a complete team effort.
It's outstanding, Quick said. I couldn't be more proud of this group. We had to fight for everything.
You have to compete, always. That's something this organization preaches, and it makes us all feel so good to be on top now. Nothing was given to us.
Knocking off the first second, and third seeded teams in the West, the Kings have solidified their mark as one of the most successful playoff teams of all time.
With their back against the wall, and the odds clearly against them, Los Angeles has proven over and over how hard work and determination is an absolute measure of success.
Following NHL tradition, each member of the Kings championship team will have the opportunity to keep the Stanley Cup trophy for 24 hours to celebrate their victory.
© Copyright IBTimes 2023. All rights reserved.
FOLLOW MORE IBT NEWS ON THE BELOW CHANNELS