Labor Rights Groups Want Big Retailers To Help Improve Guest Worker Conditions In Their Supply Chains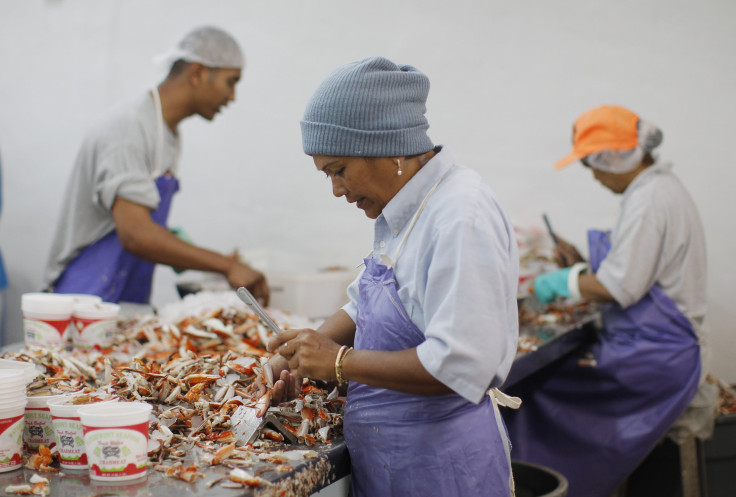 Olivia Fernanda Guzman Garfias has spent the past 17 years traveling back and forth between Mexico and the United States to work among the many seafood processing facilities scattered across the swampy delta of southern Louisiana.
Guzman, a 51-year-old married mother of three, says she's witnessed deplorable working conditions throughout her years of picking meat from crayfish, crab and shrimp shells. Meanwhile, labor rights advocates -- taking their cues from efforts to get companies to improve working conditions in Bangladesh's perilous textile industry -- are urging major seafood buyers to put pressure on suppliers to improve their treatment of workers.
"For years I've seen bad working conditions, low pay, decrepit labor camps and the abusive treatment at many places I've worked," Guzman told International Business Times by phone on Thursday. It wasn't until her three children were old enough help support the family back in Mexico's northwestern Sinaloa state that she decided it was time to do something. "I began organizing my co-workers to try to improve conditions, but the employer found out about it and he didn't like that we were becoming united."
Guzman is one of the 66,000 annual recipients of renewable H-2B visas that let foreign nationals work for temporary periods every year. They're forestry workers in Idaho. They operate amusement park concession stands in the summer. Or, like Guzman, they process shellfish in the Gulf Coast. Most of them are from Mexico. All of them are working legally in the United States, with fewer rights than the citizens that often work right next to them.
With the help of legal counsel provided by the New Orleans-based Workers Center for Racial Justice, Guzman filed a federal labor complaint last week against her most recent employer, Bayou Land Seafood, located 15 miles east of Lafayette near the town of Breaux Bridge. She says the company retaliated against her efforts to organize co-workers by refusing to rehire her. Retaliatory measures against workplace organizing are a federal violation of the right for employees to meet to discuss ways to improve their working conditions.
"People are terrified to even just ask for simple things, like asking to fix a flooded bathroom. They're afraid to speak to the employer," said Jacob Horwitz, lead organizer for the workers center, who is spearheading a campaign to get major seafood buyers like Wal-Mart Stores Inc. (NYSE:WMT) to do more to combat retaliatory tactics, wage theft and workplace safety violations among its suppliers.
Congress isn't likely to enact immigration reform this year, much less pass a measure promoted by Sen. Richard Blumenthal, D-Conn., that would extend whistleblower protections to guest workers. The measure, which is part of the stalled Senate immigration bill, would let guest workers express grievances without facing the threat of immediate deportation should their employers retaliate by firing them. At the behest of companies that rely on guest workers, lawmakers last year blocked a measure the Department of Labor attempted that would have boosted protections, including adding wage guarantees similar to ones extended to agricultural guest workers.

As it is, H-2B guest workers can be held off the clock by their employers when there isn't enough work. In some cases guest workers have received absurdly low paychecks. Guzman told IBTimes her pay has averaged in recent years about $275 a week, but during slow times the weekly pay would drop to $60. At the end of a five-month harvest, Guzman nets several hundred dollars; $1,000 in a good year. Her husband Fausto is also a guest worker at a separate company in Louisiana. Their combined guest worker income has helped the Guzmans get by back home in Mexico for the rest of the year as they planned their return to the U.S. for the next crayfish harvest. Fausto supplements their meager U.S.-earned savings back home in Mexico by taking up commerical fishing or day labor work during Louisiana's off-season.
With political gridlock on the issue, labor rights advocates are looking to major retailers to use their purchasing clout to compel seafood suppliers to weed out labor, wage and safety abuses, including the threat of retialiation to workers like Guzman who try to recruit co-workers to demand better conditions.
Guzman asserts that Bayou Land Seafood violated wage standards by paying for meat-picking by the pound and ignoring rules that require it to pay a minimum hourly wage and overtime regardless of the amount of meat they extract. She also says she lived in communal housing with 11 other guest workers that was vermin-infested and lacking air conditioning — southern Louisiana is sweltering for much of the year.
Bayou Land Seafood did not return IBTimes' request for comment, but a representative hired by the company to handle communications told local news provider nola.com (the New Orleans Times-Picayune) that the housing is "clean, safe and comfortable" and that "every employer has an obligation ... to pick and choose the individuals who they think are best, not only for the job but for working collaboratively."
Guzman's complaints aren't unique.
Last year, Harvest Time Seafood of Abbeville, Louisiana, was forced by the Department of Labor's Wage and Hour Division to pay $53,000 to four Mexican nationals, all of them women, for illegally garnishing their paychecks for the costs of recruiting them -- and then threatening to fire them and report them to immigration authorities. The company paid the fine but says it was unaware of any wrongdoing in paying guest workers a piece-rate for each pound of meat they picked. Companies break the law if they do not ensure they're paying a legal minimum hourly rate, including overtime, regardless of how many pounds of meat the workers extract every hour. Employers can also fall into legal problems for garnishing wages to recover expenses like visa-processing fees or the protective gear, such as goggles and aprons, required of guest workers to meet safety and hygiene standards.
Under the current U.S. immigration and labor law, employers can initiate deportation proceedings any time they decide to fire or lay off guest workers. This constant threat of deportation can be used to compel guest workers to tolerate harsh working conditions or violations of wage and safety standards.
As reported here in June 2012, guest workers from Mexico filed a federal complaint against Breaux Bridge-based CJ's Seafood, a Wal-Mart supplier, for not paying overtime, locking workers inside workplace facilities, making physical threats for not working fast enough, and forcing some to work up to 24-hour shifts during peak operations.
In July 2012, the Labor Department slapped CJ's with a $34,000 fine for safety violations, including blocking exits at the facility, and required it to pay $214,000 for wage and hour violations. Dozens of guest workers got nearly $77,000 in back pay.
Local labor rights advocates have taken a cue from recently implemented measures to compel large companies to proactively improve textile factory conditions in Bangladesh.
The National Guestworker Alliance, once of the most vocal non-profit organizations in the country advocating for the rights of H-2B visa holders, has called on three major buyers of U.S. farmed and processed seafood – Wal-Mart, Target Corporation (NYSE:TGT) and Whole Foods Market Inc. (NASDAQ:WFM) – to do more to purge sketchy suppliers from their supply chains.
The NGA wants these three major seafood buyers to to agree to "a binding dispute resolution process that includes employers and workers," according to Horwitz. This would bring the three major seafood buyers into labor disputes involving their suppliers and guest workers they employ who step forward with wage, labor or safety complaints. The group is currently trying to get the three retailers to respond to requests to discuss the terms of its proposed accord. Representatives at Wal-Mart, Target and Whole Foods did not return IBTimes' requests for comment.
The accord is similar to initiatives pushed by the International Labor Organization and other international workers' rights groups that have led to company-funded programs like the U.S.-based Alliance for Bangladesh Worker Safety and Europe's Accord on Fire and Building Safety in Bangladesh aimed at increasing workplace safety through the efforts of companies that profit from Bangladesh's unsafe textile factories.
"We definitely looked at what they were doing to try to get companies here to do more here to improve conditions for these workers," Horwitz said.
FOR FREE to continue reading
✔️ Unlock the full content of International Business Times UK for free
offer available for a limited time only
✔️ Easily manage your Newsletters subscriptions and save your favourite articles
✔️ No payment method required
Already have an account? Log in
© Copyright IBTimes 2023. All rights reserved.