Ladies In White: Cuban Opposition Group Receives Human Rights Award After Waiting 8 Years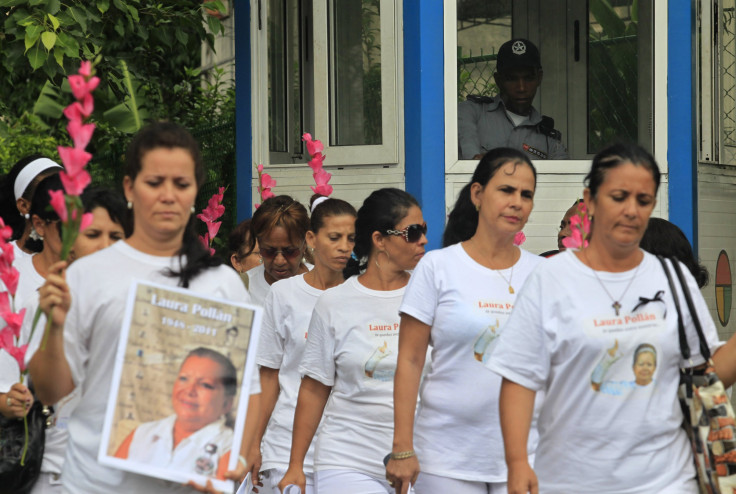 A Cuban opposition group will finally be able to collect an award for its activism from the European Parliament eight years after receiving it.
The Ladies in White, a protest movement made up of the wives and other female relatives and friends of jailed Cuban dissidents, was awarded the Sakharov Prize for Freedom of Thought by the European Parliament in 2005, but the group was barred by the Cuban government from leaving the country to accept it until recently.
After travel restrictions were eased this year, several members of the group were able to journey to Brussels to formally accept the award, which recognizes activism on behalf of human rights and democratic freedoms.
"We have followed your work, we have followed your struggle," then-President of the European Parliament Josep Borrell said in 2005. He also praised the group's "willingness to say in public what the [political] prisoners could not."
The group initially formed after 75 Cuban activists were arrested in 2003 amid a government crackdown on opposition groups.
Members of the Ladies in White, as name implies, dressed in white clothing and began marching in silence around Havana every Sunday, defying the government's ban on public demonstrations.
The 75 dissidents that inspired the group have since been released, though their convictions remain in place, which the group says could allow Cuban authorities to make arbitrary arrests in the future.
While most of the dissidents and their families have left Cuba, Ladies in White remains active in support of other Cuban dissidents and their families.
"The arrests continue," said Laura Labrada, one of the group's members who traveled to Brussels, the BBC reported. "It's true the time in detention is less, but we're still repressed, still detained -- and in big numbers. Just for thinking differently ... This has not changed."
Human Rights Watch, citing data from the Cuban Council of Human Rights, said in a 2012 report that there were 47 political prisoners in Cuba.
According to the Council's figures, there were also some 6,602 political detentions in 2012, up from 4,123 in 2011, Reuters reported.
© Copyright IBTimes 2023. All rights reserved.