Lakers News: How Many Games On LA's Schedule Will Rajon Rondo Miss After Suffering Hand Injury?
The Los Angeles Lakers arguably had their best win of the 2018-2019 NBA season Wednesday night when they defeated the Portland Trail Blazers 126-117. LeBron James put up 44 points and the team moved to two games above .500 for the first time this year.
But it wasn't all good news for Los Angeles, who will now be without one of their veterans for the foreseeable future.
Rajon Rondo suffered a fractured hand in the winning effort. The injury will force the point guard to miss between three and five weeks, according to ESPN.
"He hit his hand on the floor when he went to steal that ball," Lakers' head coach Luke Walton told reporters, indicating Rondo got hurt when he made a steal with 8:24 left in the fourth quarter. "They [the medical staff] are getting all the details. I just know he will be out for a few weeks."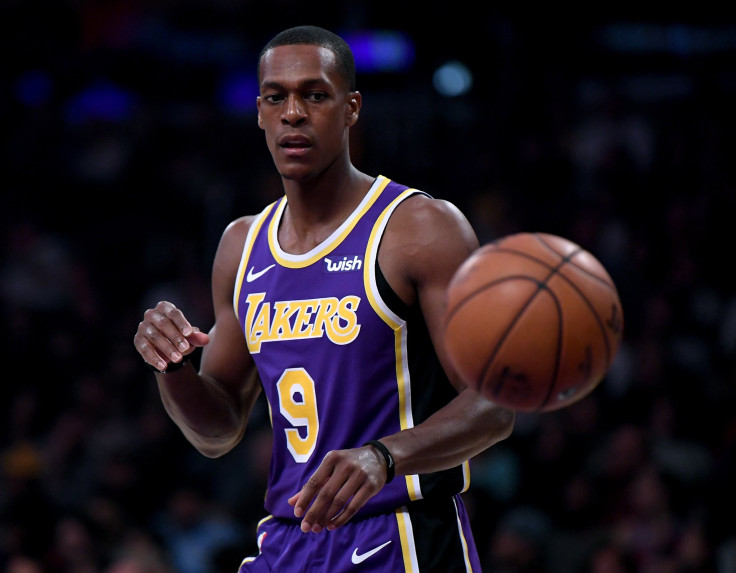 Rondo played just 16 minutes in the victory over Portland, scoring no points with three assists, two rebounds and two steals. The 32-year-old old is averaging 8.5 points, 4.5 rebounds, 6.5 assists and 1.2 steals in 25.3 minutes per contest. He's shooting 45.5 percent from the field.
Los Angeles' starting lineup featured Rondo for the first two games, but he was moved to the bench after returning from a three-game suspension. Lonzo Ball is averaging slightly more playing time at point guard, but it's often been Rondo that's on the floor for L.A. in crunch time.
The Lakers have outscored their opponents by 7.1 points per 100 possessions with Rondo on the court. L.A. has a 0.0 net rating with Rondo on the bench.
Los Angeles' next game is scheduled for Saturday night against the Orlando Magic. The Lakers will play 10 games over the next three weeks. A five-week absence for Rondo would mean missing 17 games, including matchups with the Denver Nuggets, San Antonio Spurs and Houston Rockets.
© Copyright IBTimes 2023. All rights reserved.