Lakers Reportedly Want Monty Williams As Their Head Coach, Tyronn Lue Might Be A More Likely Option
The Los Angeles Lakers might have already made a decision regarding who they want to be their next head coach. A new report states that L.A. has their eyes on Philadelphia 76ers' assistant coach Monty Williams, but the team doesn't know if they will land their No.1 choice.
According to Fox Sports' Colin Cowherd, the Lakers want to hire Williams after meeting with him Tuesday. Williams, however, might not make up his mind for another few weeks.
Cowherd said that Williams would take over for current 76ers' head coach Brett Brown if Philadelphia doesn't reach the Eastern Conference Finals. Williams would reportedly rather be the 76ers' head coach than take the Lakers' job.
Tyronn Lue is scheduled to meet with the Lakers about the vacancy. He is reportedly the team's No.2 choice. Since the odds favor Philadelphia being knocked out of the 2019 NBA playoffs at some point in the next two rounds, the former Cleveland Cavaliers' coach might ultimately be the man that replaces Luke Walton.
Miami Heat assistant coach Juwan Howard is also scheduled to interview with the Lakers.
Williams spent five seasons as the head coach of the New Orleans Pelicans, posting a .439 winning percentage from 2010-2015. He had two playoff appearances with the Pelicans but never won a postseason series. Williams has been an assistant coach in Philadelphia for a year.
Philadelphia is tied 1-1 in their first-round series with the Brooklyn Nets, though they remain big favorites to advance. The 76ers are likely headed for a second-round match up with the Toronto Raptors, against whom they would not have home-court advantage and would be underdogs.
Lue became the Cavaliers' head coach in the middle of the 2016 season and was fired six games into this year. He led LeBron James to three straight NBA Finals, including one championship.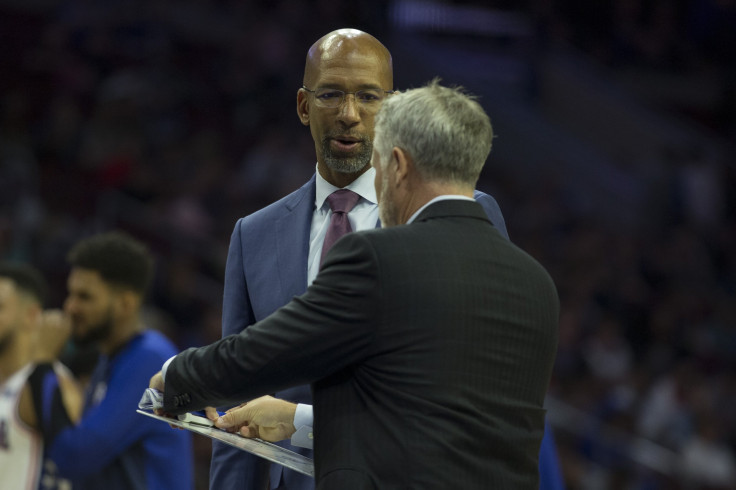 © Copyright IBTimes 2023. All rights reserved.