Lakers Rumors: Paul George Trade Not Imminent, 2017 Superstar Free Agents Not On L.A.'s Radar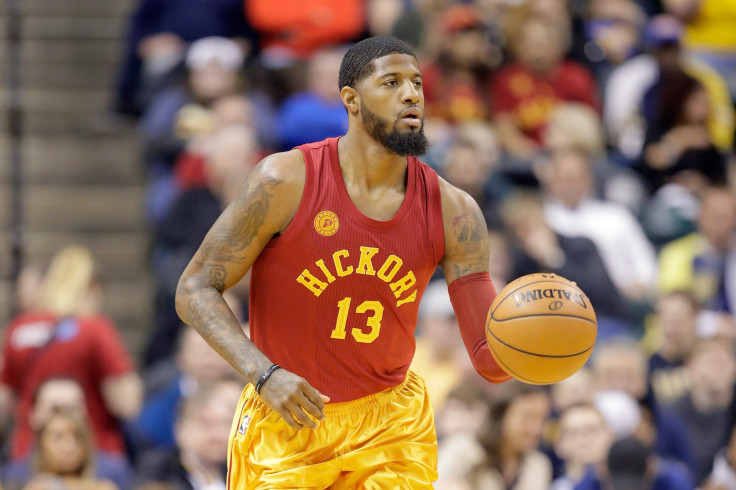 The Los Angeles Lakers have put themselves in a position to soon become contenders, acquiring young players and clearing salary cap space. With Paul George available through a trade and the likes of Chris Paul and Blake Griffin hitting free agency, L.A. might not make any big moves in the 2017 offseason.
The latest rumors have the Lakers pursuing George and LeBron James in 2018 free agency, and the Lakers could be quiet this summer as they plan for next year. L.A. has already begun setting themselves up for a big push at next year's big free agents, acquiring Brook Lopez's expiring contract and sending D'Angelo Russell and Timofey Mozgov to the Brooklyn Nets.
READ: LeBron James, Paul George, Russell Westbrook On A Lakers' Super-Team Real Or Fake?
"We were able to get amazing salary cap relief and space so that in July of 2018 we have the ability to add hopefully two max-salary players to our franchise, and that really fit into sort of our long-term plan," Lakers general manager Rob Pelinka told reporters on the day of the 2017 NBA Draft.
L.A. hasn't said what players they are targeting in 2018, but they've made it clear they want to form a super-team of their own. The Golden State Warriors and Cleveland Cavaliers have dominated the league with three straight trips to the NBA Finals, and the Lakers won't be able to compete with them unless they make multiple major additions.
"We know that the goal here is to compete for championships, that's what we want to do," Pelinka said. "With the leading teams in the league today, we felt like to be able to look them in the eye and challenge them, we need two superstar players to come here and join this platform and join our core group of great players that we now have. And that's our plan and we're gonna put all of our energy and all of our hard work towards that."
Golden State proved to be just about unbeatable with Kevin Durant this past season. They went 16-1 in the playoffs, led by a starting lineup that included four All-Stars. Even with James, the NBA's best player, and two other All-Stars, the Cleveland Cavaliers didn't stand much of a chance as they lost to Golden State in five games.
The Lakers will certainly look to sign James if he opts out of his deal with the Cavs, though Cleveland remains the favorite to sign the three-time champion. Other 2018 free agents will likely include Isaiah Thomas, DeMarcus Cousins and Russell Westbrook. Each player can make much more guaranteed money by remaining with their current teams.
The same goes for George if he was to re-sign with the Indiana Pacers, but that probably won't be an option for the forward. He told the team that he won't return when his contract expires next year, and Indiana has since been trying to trade him. Los Angeles is George's preferred destination in 2018, and Indiana has engaged in trade talks with L.A.
The Lakers have what it takes to acquire George. They recently drafted Lonzo Ball with the No.2 overall pick, and they took Brandon Ingram with last year's No.2 overall selection. Because the team can probably sign George as a free agent next summer, they are unwilling to unload any of their top assets to acquire the All-Star.
According to Steve Kyler of Basketball Insiders, trade talks between the two sides have died off in recent days. Even if the Lakers offer a package centered around Julius Randle, teams like the Boston Celtics and Cavaliers might be able to put together a better deal.
Perhaps L.A. will increase their offer, unwilling to take the chance that George will be traded to a winner and decide to stay there for the long term. It's pretty clear, however, that the Lakers won't spend a ton of money this offseason.
"We recognize that really starting July 1 we want to add the two or three remaining guys to the roster or potentially more that'll help the young core develop and be mentors for the guys and fill positional needs," Pelinka said. "So the house for next season is only partially built and we will complete that through free agency. Of course, in free agency, we will be very, very strategic to keep cap space in July 2018. We're gonna be very sacred about that. We worked hard to get in that position and so we'll be smart in free agency, but add the right players to make sure our young guys are developed the right way and not too much too soon."
READ: Who Did LA Draft And Are They Any Closer To A Trade Amid Paul George Rumors?
That means L.A won't be giving out any big contracts that might affect their ability to offer max contracts in 2018. The team will look to sign a few role players to fill out the roster.
Following the worst four-year stretch in franchise history, the Lakers should have another down season in 2017-2018. The organization seems more than willing to do that if it means they'll be contending next year.
© Copyright IBTimes 2023. All rights reserved.