Lakers News, Roster: Who Did LA Draft And Are They Any Closer To A Trade Amid Paul George Rumors?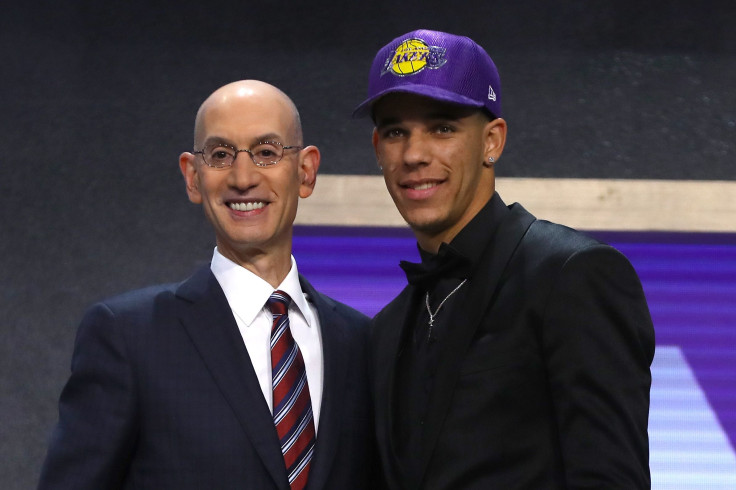 Things seem to be moving quite quickly for the Los Angeles Lakers. Earlier in the week, team president Magic Johnson and general manager Rob Pelinka made the biggest move of their front-office careers, dealing D'Angelo Russell and Timofey Mozgov to the Brooklyn Nets for Brook Lopez, whose contract expires next year, and a first-round draft pick, in a move that also freed up considerable 2018 salary-cap space.
The trade also sent a not-so-subtle message throughout the league that the Lakers' rebuilding phase is in its last throes.
More moves took place on Thursday, with the Lakers drafting highly touted playmaker Lonzo Ball. Pelinka also made a trade, dealing a first-round pick for two other picks. By the end of the evening, the Lakers had added not only Ball, but also power forward Kyle Kuzma (No. 27 pick) of Utah, swingman Josh Hart (No. 30 pick) of Villanova and big man Thomas Bryant (No. 42 pick) of Indiana.
The pace of activity wasn't lost on Pelinka, who described the front-office atmosphere as "renewed energy." In a league that relies heavily on public image, the organization is hoping to effectively distance itself from the painful aftermath of the 2012-13 implosion that included trades involving Dwight Howard and Steve Nash. The veteran additions helped the Lakers reach the playoffs that season, only to be swept by the San Antonio Spurs and then followed by four seasons of toiling near the bottom of the Western Conference.
Pelinka didn't mince words when he described the Lakers' intentions. "We need two superstar players to come here and join this platform and join our core group of players we now have," he said.
But which two players?
At the moment, all indications point to the Lakers heavily pursuing Indiana Pacers forward Paul George. The Pacers seemed resigned to losing George either through a trade or by free agency next year and the Lakers appear to be the top destination.
The Lakers' pursuit of George can be a bit confusing to their grand plans. The front office can choose to trade for George or play the waiting game another year and sign him as a free agent. If Pelinka and Johnson have to surrender players to Indiana, they may gut their team enough to make the roster look less attractive for the other star player. More than likely it won't take much to get George, and if it does, Pelinka and Johnson will simply put their dreams of a "super team" on hold for another season.
But the Boston Celtics have reportedly shown interest in trading for George, so it wouldn't be surprising if either Julius Randle, Jordan Clarkson or Larry Nance Jr. is included in some type of package. Brandon Ingram, however, is considered "untouchable."
Meanwhile, a retooled roster could include LeBron James or Russell Westbrook, or both. With the Golden State Warriors loaded with star power, Pelinka and Johnson seem aware that pulling out all the stops is the only way to compete in the West. Actually landing James, Westbrook or another star to potentially play alongside George may look a lot easier if the roster has the right pieces to make a trade this year or to lure them as free agents next year.
As of right now, things look encouraging.
The addition of Lopez, Ball and the other three incoming rookies makes the squad a lot more interesting and it gives Pelinka the opportunity to consider a variety of trade scenarios. Kuzma, Hart and Bryant all have a solid chance to make a roster that is already pretty deep.
Listed at 6-foot-9 and 222 pounds, Kuzma is coming off three productive college basketball seasons. He led the Utes in scoring and rebounding last year, and knocked down 27 three-pointers over 29 games. Kuzma, who turns 22 next month, is agile, looks comfortable in the open court and is a good passer. He is expected to help the Lakers right away while competing for time with Nance.
Hart is also 22 years old and can contribute immediately. The 6-foot-5 guard averaged 18.7 points per game and led the Wildcats in rebounding (6.4). Though scouts aren't completely thrilled with his pull-up jumper, Hart converted 74 of his 183 three-point attempts (40.4 percent). Perhaps most importantly, he is a very good perimeter defender — something the Lakers have lacked in recent years. There is a decent chance Hart averages about 15 minutes per game in his rookie season.
While Kuzma and Hart seem NBA-ready, Bryant is more of a project. The 6-foot-10 center didn't prove to be much of a rebounder with the Hoosiers and some might say he was a bit of a bust after arriving in Bloomington amid a great deal of hype. But the good news for the former McDonald's All-American and the Lakers is that Bryant is athletic and only 19 years old, and therefore definitely worth the risk. A strong showing at Summer League and in preseason will go a long way to convincing the coaching staff that he is ready to fulfill his potential and perhaps cut into Ivica Zubac's playing time.
As of right now, the Lakers starting lineup is expected to consist of Ball and Clarkson in the backcourt, with Ingram, Randle and Lopez in the front court. The Lakers are thin at bench guards, which could mean Corey Brewer and Hart splitting minutes while Clarkson plays more of a point guard role.
There are 18 players on the current roster, though four are unrestricted free agents. It's possible that Tyler Ennis, Thomas Robinson, Metta World Peace and Nick Young may all not return in 2017-18.
Lakers Current Roster
Lonzo Ball, Point Guard
Tarik Black, Center
Corey Brewer, Small Forward
Thomas Bryant, Center
Jordan Clarkson, Shooting Guard
Luol Deng, Small Forward
Tyler Ennis, Point Guard (Unrestricted Free Agent)
Josh Hart, Shooting Guard
Brandon Ingram, Small Forward
Kyle Kuzma, Power Forward
Brook Lopez, Center
Larry Nance, Power Forward
David Nwaba, Shooting Guard
Julius Randle, Power Forward
Thomas Robinson, Power Forward (Unrestricted Free Agent)
Metta World Peace, Small Forward (Unrestricted Free Agent)
Nick Young, Shooting Guard (Unrestricted Free Agent)
Ivica Zubac, Center
© Copyright IBTimes 2023. All rights reserved.