Lakers Trade Rumors: Pau Gasol AND Andrew Bynum Could Go In Dwight Howard Deal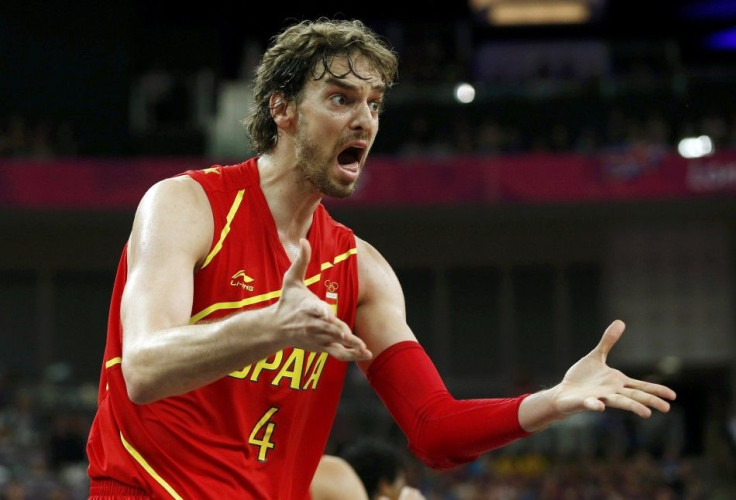 Trade talks between the Lakers and Magic surrounding Dwight Howard appear to be back on.
A deal between Los Angeles and Orlando fell through in July in part because of teams' inability to find a third club to take on Andrew Bynum. The Magic don't want Bynum because he is a free agent in 2013. The Cavs and Rockets were two such teams that had been suggested as possible facilitators.
A potential trade would include both the Nuggets and 76ers. Several big names would be moved, and Bynum wouldn't be the only Lakers star headed somewhere else.
According to Adrian Wojnarowski of Yahoo Sports, Pau Gasol might be dealt as well.
An agreement would send Howard and Al Harrington to L.A., Andre Iguodala to Denver Bynum to the 76ers and Gasol and Aaron Affalo to Orlando. Nothing is imminent, but talks have become serious over the past few days.
The Magic would receive draft picks in such a deal, and get some much needed salary cap relief. Those are the two most important factors in Orlando agreeing to a trade.
Orlando would prefer to acquire Gasol over Bynum. Bynum would be hard to move in another deal because of his impending free agency, and the Magic are unsure if he would sign a long-term contract with them. There's a good chance Gasol would eventually be traded for young players and more draft picks if he does go to Orlando,
Wojnarowski says the parameters of the trade could change. Bynum and Gasol would likely be moved, but their destinations are not set in stone.
Iguodala has long been rumored to be sought out by the Lakers. Now, it looks like he could be involved in a deal with Los Angeles, but end up in Denver.
If the trade goes through and Howard become joins the purple and gold, he'll still likely become a free agent next summer. He can sign a more lucrative deal in the offseason if he tests the market.
Gasol may be moved, even though his teammate Kobe Bryant has been adamant about the Lakers keeping him. Bryant recently said that Gasol would be with L.A. as long as he is in Los Angeles.
© Copyright IBTimes 2023. All rights reserved.