Lakers Trade Rumors: Paul George Deal Possible As Deadline Looms? Boston Celtics In The Mix For Indiana Pacers Star Forward?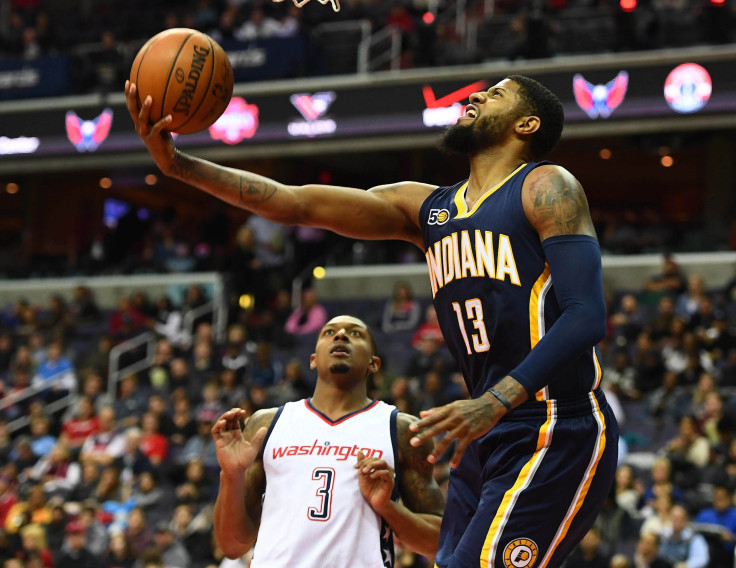 As new president of basketball operations Magic Johnson looks to shake up the once proud Los Angeles Lakers franchise, he's reportedly talking to old foe, friend and Indiana Pacers president Larry Bird about a potential deal for All-Star small forward Paul George, ESPN reported Wednesday.
The NBA's trade deadline is scheduled for Thursday at 3 p.m. EST, and while the report indicated that both sides were simply feeling each other out and that the Boston Celtics were also asked if they were interested in one of the league's best two-way players.
Recently, George told Pacers owner Herb Simon that he wanted to help the franchise win its first championship but needed to be assured that the squad was heading in the right direction. Indiana has made the playoffs in five of the last six seasons, reaching the Eastern Conference Finals twice in a row, but this season has been on the fringe of the East's playoff teams.
At first glance, the Lakers, given George's history and the squad's massive market, do seem like a solid fit. He was born in Palmdale, California, located north of L.A., and George played college ball at Fresno State before Indiana selected him No. 10 overall in 2010.
But the Lakers are not presently built to give George what he wants: a chance to win a title. Los Angeles has the second-worst record in the Western Conference and the club is seven games back of its final playoff berth. And the Lakers, with Johnson taking over following the firing of general manager Mitch Kupchak and president Jim Buss, are still in a rebuilding mode that figures to continue at least into next season.
George's contract may also complicate a move for the Lakers unless they can give up draft picks. The Lakers currently have only a little over $82,000 in cap space, according to Spotrac, and George is scheduled to make $19.5 million next season and has a player option worth $20.7 million for the 2018-19 run. He's more than likely to opt-out of that deal and test the free-agent market, which could and should make the Lakers skittish unless Johnson can quickly make the team a contender.
The Celtics, meanwhile, have the second-best record in the East. The club drafted small forward Jaylen Brown with the third overall pick in the 2016 NBA Draft. Boston also owns what could be the No.1 overall pick in the upcoming draft from a deal with the Brooklyn Nets.
© Copyright IBTimes 2023. All rights reserved.