Laos: Rapid Economic Growth In Landlocked Southeast Asian Country Leaving Rural Poor Behind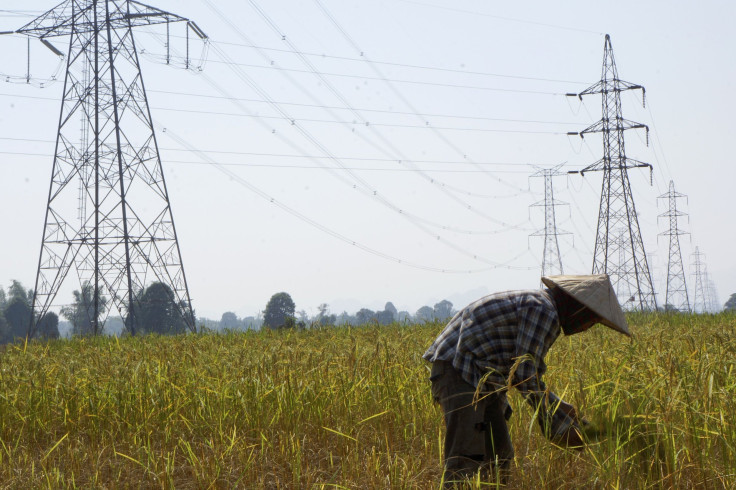 The tiny, mountainous, landlocked southeast Asian nation of Laos – one of the last one-party Communist states on earth – has engineered remarkable economic growth in recent years due largely to robust commodity exports, huge multibillion-dollar road and high-speed rail infrastructure projects, massive hydroelectric dams, as well as billions in investments from China, Thailand and Vietnam.
Laos, which also has the world's smallest stock market, now 2 years old, has consistently delivered 8 percent annual GDP growth over the past decade. IHS Global Insight projects that the economy, which grew by 8.2 percent last year, will slow down to 7.5 percent growth this year, but then get back on track – producing about 8 percent expansion annually through 2018. Laos has a particularly breathtaking and ambitious hydroelectric power sector—the country already has 13 dams in operation, but has plans to construct 70 more, including the gargantuan (and highly controversial) Xayaburi dam on the Mekong River. By 2020, Laos hopes to produce 12,500 megawatts of power annually.
Another dam, the Nam Theun-2, a huge 1,000-megawatt complex which was partially funded by the World Bank and the Asian Development Bank, commenced operation in 2010 and is expected to generate $2 billion in earnings for the Laotian government over the next 25 years. The country's once sleepy capital, Vientiane, now boasts expensive restaurants and luxury cars traveling on increasingly busy streets – reflecting the emergence of a new urban bourgeois elite in the Marxist state. Laos has indeed come a long away. The government started decentralizing control of the economy and encouraging private enterprise efforts in 1986 – thus, starting off from this low base, Laos has produced strong economic growth ever since.
The Chinese influence is especially pronounced in Laos – from dam and infrastructure projects to the proliferation of Chinese traders and businessmen in the cities. The Chinese economic footprint is so deep that many young Laotians are learning the Chinese language in hopes of getting jobs in the scores of Chinese companies now based in the country. "In [the] future, there will be a lot [more] of Chinese companies coming to Laos," a Laotian economic student named Liphakone Ratthida told the New York Times. "It is easier to find work at a Chinese company if I can speak the language." Ratthida studies at Soochow University in Laos, mainland China's first university campus located abroad. The Times added that many Chinese-language schools have sprouted up along the Laos-China border. Laotian government officials in particular place their children in these institutions.
However, the fruits of this boom in prosperity has largely bypassed rural and ordinary Laotians, who remain trapped in poverty as the urban elite enjoy the spoils of economic success. Despite significant reductions in the overall poverty rate (a 33 percent drop between 1993 and 2008, according to Reuters), Laos remains one of the poorest nations on earth, with high incidences of child mortality and low rates of school enrollment. Some 70 percent of Laotians live in rural areas. According to the CIA/World Factbook, infrastructure remains subpar, especially in rural regions, electricity is available to only 75 percent of the people, while the economy still remains heavily dependent on agriculture and subsistence farming -- which employs 75 percent of the population and accounts for 33 percent of GDP, according to Michigan State University.
The Integrated Regional Information Networks (IRIN) news agency, which focuses on global humanitarian issues, reported that Laos' rural poor have little or no access to safe water, sanitation and hygiene services. A United Nations joint monitoring report from 2013 indicated that almost one-half of rural Laotians defecate in public, the highest such rate in southeast Asia. "People in rural areas still don't like to use the toilet," Soulivanh Souksavath, the environmental health technical officer in Laos for the World Health Organization, told IRIN. "It's easier for them to go into the forest and defecate."
Rural Laotians also suffer from inadequate sources of drinking water and sanitation facilities, relative to urban-dwellers. (In contrast, rural residents in neighboring Thailand have witnessed dramatic improvements in such health and quality-of-life issues.) Poor sanitation and unclean water frequently leads to malnutrition and diarrhea, two of the leading causes of death for Laotian children below the age of 5. Although the mortality rates for children under 5 has been cut by almost half since 1993 (from 170 to 79 deaths per 1,000 live births, the U.N. said), poor hygiene and sanitation still plague rural Laotians, resulting in widespread disease and premature deaths. Waste and water treatment plants exist only in urban areas, leaving rural residents to largely fend for themselves.
Furthermore, the expansion of mining and food-processing factories in the countryside is also adding to water pollution. "The biggest issue is water quality," Souksavath added. "People have access to water but it's actually not safe to drink. … We have a lot of challenges right now because of the [economic] development."
Questions have also been raised about the true nature of the country's new found wealth. Laos' key resource-extraction industries, rubber, timber, among others, are riddled with corruption and tax evasion – all benefiting big businessmen and their allies in the Communist government -- while critics also charge that these businesses aare destroying the nation's once pristine natural beauty. "Although all traditional economic indicators say Laos is doing OK, Laos is getting screwed," an unnamed Western businessman in Vientiane told Reuters. "Laos is missing out on an unquantified - by anyone, not the IMF, not the World Bank, anyone - amount of revenue."
In response to allegations of corruption and kickbacks related to Laos' mining and power projects, the country's vice minister of energy for energy and mines, Viraphonh Viravong, insisted the government is dedicated to wiping out such wrongdoing, but also emphasized that the state remains committed to accelerated economic development. "Laos … is duty-bound, morally and politically, to continue to harness the might of the rivers that flow through our country, to power cities, electrify rural areas and generate the necessary resources to overcome poverty, malnutrition, infant mortality, illiteracy and for the greater good of our people," he said, according to Reuters.
Environmentalists are also alarmed by how the proliferation of dam projects has displaced tens of thousands of people, whose river-based livelihoods have been eliminated, and polluted the local environs. Making things worse, desperate villagers have resorted to illegal logging and mining, thereby exacerbating the degradation of the environment.
For now, while problems fester below the surface, Laos' economy is expected to continue to show top-line growth. IHS Global Insight reported that under the Communist leadership Laos is expected to persist with its "cautious economic reform" and "gradual liberalization" while the ruling Lao People's Revolutionary Party (LPRP) concurrently seeks to "extend its exclusive political control." IHS further noted that Laos' membership in the World Trade Organization (WTO) "promises further trade and investment." In addition, as long as mining and hydropower projects investments remain brisk the country will likely avoid any negative repercussions from external shocks.
But some economists warn that Laos faces some serious bumps and struggles in the coming years. "The [Laotian] economy is overheating," Ashvin Ahuja of the International Monetary Fund (IMF), told Reuters. The IMF cited, among other factors, that the government's revenues are slipping as spending increases, including higher salaries for public sector workers. The fiscal deficit has climbed to 6.5 percent of GDP, while inflation is predicted to rise to 9.4 percent this year from 7.5 percent at the end of 2013.
Even Prime Minister Thongsing Thammavong has warned of the country's fiscal woes and ordered his ministers to cut costs. As a result, the government has frozen some wages of state workers, delayed payments to contractors and vowed to tamp down on salary hikes. "Laos is running a high level of debt and is at risk of a financial crisis" he said late last year, according to the state-controlled Vientiane Times newspaper.
Reuters noted that some Laotians, fed up with rising prices, are crossing the border to Thailand to pick up cheaper goods, including food and medicine. Laos is also heavily dependent on foreign loans and assistance – Michigan State estimates that in 2010, donor-fund programs accounted for about 8.5 percent of GDP and 90 percent of the Vientiane government's capital budget.
© Copyright IBTimes 2023. All rights reserved.