LAPD Homeless Man Shooting Update: Body Camera Worn By Officer Could Be First Major Test For Policing Reforms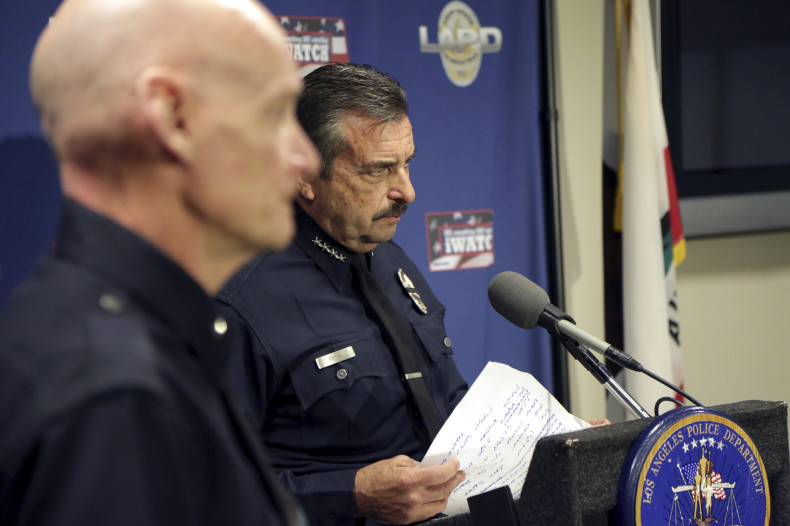 The fatal shooting of a mentally ill homeless man in Los Angeles over the weekend could provide one of the first major tests for the use of police body cameras since the killings of black men in the U.S. last year that sparked months of protest over police conduct in racial minority communities. The shooting of a man identified in reports as Africa, which was caught on film by a bystander on Sunday, was also captured on at least one body camera worn by an officer involved in the shooting, according to a commander with the Los Angeles Police Department. Body cameras worn by police were among the many recommendations from President Barack Obama's task force on policing, which released a draft report on the evening of the LAPD shooting.
The body camera worn by the police officer in the homeless man's shooting could provide answers to what happened before the witness began filming the incident and could help determine if the shooting was justified. Three officers who were responding to reports of a robbery opened fire after the man tried to grab a gun from an officer, according to multiple reports. They also had attempted to use a Taser to subdue the homeless man, who is seen in the witness video swinging at officers and resisting arrest before he is shot. It's not clear in the witness video if the man was the robbery suspect.
WARNING: The video below contains graphic images of violence and profane language.
More widespread use of body cameras have the support of law enforcement, said Jim Pasco, executive director of the Fraternal Order of Police, the nation's largest organization advocating for the concern of cops. "If there is a way to use technology to make law enforcement better and safer for officers and citizens, we should employ it," Pasco told the Wall Street Journal, while declining to comment on the specifics of the task force's report.
Last year, Obama asked states to fund body cameras for local police departments, following the deaths of Michael Brown and Eric Garner, whose fatal encounter with New York City police was also filmed by a witness. The Task Force on 21st Century Policing's report lists dozens of recommendations, including reforming policies and oversight of departments, using technology and social media to engage and inform residents, and promoting the wellness and safety of officers, the Wall Street Journal reported. The 76-page draft report also calls on Obama to create the National Crime and Justice Task Force, which would make recommendations for reforming the American criminal justice system. A final task force report is due in April.
© Copyright IBTimes 2022. All rights reserved.