Last British Governor Of Hong Kong Says Confront China On Rights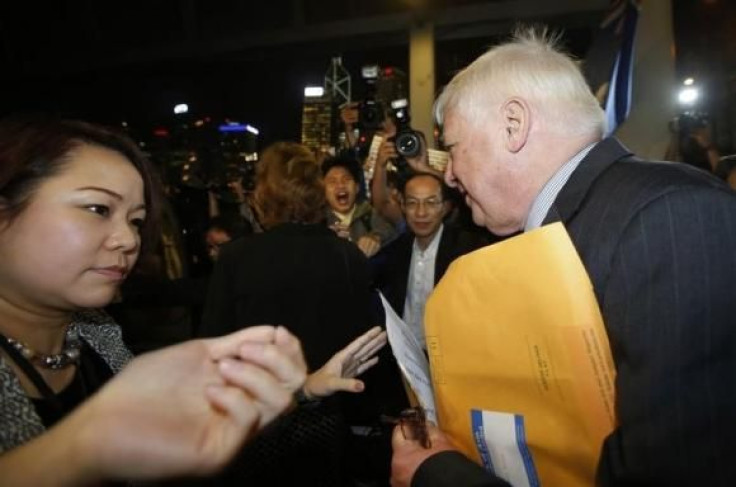 (Reuters) - Countries should not be afraid to stand up to China over democratic rights in Hong Kong, the last British governor of the territory, Chris Patten, told a U.S. government commission on Thursday.
Patten rejected Chinese charges that Hong Kong pro-democracy protesters were puppets of foreigners as a "slur" on a "wonderfully principled" movement.
It was important to stand up for principles and it was ridiculous to suggest that to do so carried the risk of economic damage, he told the Congressional-Executive Commission on China.
"China's exports to the United States went up by 1,600 percent in 15 years," Patten said via a video link from London. "So who need whom?"
Patten praised U.S. President Barack Obama for a speech in Brisbane last weekend in which he pledged to stand up for human rights in the region, and said Hong Kong protesters were "speaking out for their universal rights."
Patten has accused Britain of not putting enough pressure on China to stick to a pact on the transfer of Hong Kong's sovereignty because it was worried about damaging trade links.
Members of the bipartisan commission - a panel of nine senators, nine house members and five senior U.S. administration officials set up in 2000 to monitor human rights in China - put forward a bill last week calling for renewed U.S. commitment to democracy and autonomy in Hong Kong.
The bill would update a 1992 act that treats Hong Kong differently to China on trade and economic matters, and requires Obama to certify the territory is sufficiently autonomous before enacting new laws or agreements.
Commission co-chairman Senator Sherrod Brown said Hong Kong was a test of China's willingness to comply with its international commitments.
"If China can so easily renege on its promises to Hong Kong, then how can we expect China to hold up its end of the bargain on issues like World Trade Organization compliance or future trade agreements?" he said.
China's Foreign Ministry repeated on Thursday that foreign countries should not "interfere" with Hong Kong politics.
China resumed control of the British colony in 1997 through a "one country, two systems" formula that allows wide-ranging autonomy and specifies universal suffrage as an eventual goal.
Beijing said in August it would effectively screen candidates for city leader, prompting weeks of street protests.
© Copyright IBTimes 2023. All rights reserved.