Late Groom Pulled Over For Speeding At 120mph On His Way To His Wedding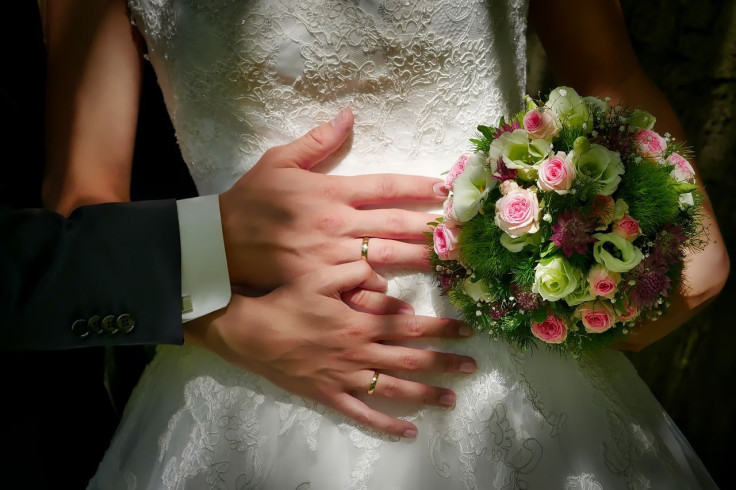 KEY POINTS
The groom was on the M4 when he was spotted and stopped by Wiltshire Police
The car was also reportedly faulty, with a cord exposed on one of the tires
The groom was fetched by some attendees and taken to his wedding ceremony
A groom in Britain rushing to make it to his wedding was pulled over by the police Sunday after he was caught driving at a speed of 121 mph on a motorway, according to a report.
The unidentified man, who was driving a silver BMW, was on the M4 when he was spotted and stopped by Wiltshire Police, Sky News reported.
Upon checking, the car was also faulty, with a cord exposed on one of the tires. Wiltshire Police Specialist Ops tweeted photos of a silver BMW next to a police car with the radar gun showing the speed.
"Usually, the bride is always late. Unfortunately, this groom has some explaining to do after being caught at 121 mph on the M4 on the way to his wedding," Wiltshire Police Specialist Ops said in the caption.
"A read nearside tire with cord exposed topped this stop off. Driver reported to court, vehicle prohibited," the caption read further, along with the hashtag "#donttellthebride."
Wiltshire Police reported that the groom got fetched by other attendees at the venue and taken to his soon-to-be wife for the wedding.
The man will appear before a court for speeding at a later date, which has not yet been confirmed.
Meanwhile, a wedding celebration in Folly Beach, South Carolina, in April ended in tragedy after an alleged drunk driver slammed a newly-wed couple's golf cart-style vehicle, killing the bride and injuring the groom.
The cart rolled many times over as a result of the impact, leaving the bride, 34-year-old Samantha Miller lifeless and her new husband, Aric Hutchinson, and two others in the cart severely injured and in critical condition, CNN reported.
First responders tried to revive Miller, but she died at the scene, according to the chief of the Folly Beach Department of Public Safety Andrew Gilreath.
The suspect, 25-year-old Jamie Lee Komoroski, was speeding at 65 mph in a 25 mph area and only hit the brakes before striking the golf cart.
Komoroski was charged with one count of reckless homicide and three counts of felony driving under the influence resulting in great bodily harm, per court records. She was kept in custody at Charleston County Jail.
© Copyright IBTimes 2023. All rights reserved.