Latin American Countries Are The Happiest In The World, Gallup Poll Finds
If you live in a Latin American country, chances are you're among the happiest people in the planet. That's according to the latest poll data released from Gallup.
For the first time in a decade, the research firm reported that every one of the top 10 countries on its Positive Experience Index are from Latin America. At the top was Paraguay, which received a top score of 89, followed by Colombia, Ecuador and Guatemala, which all tied at 84. Those scores were compiled from five questions Gallup asked adults in 143 countries.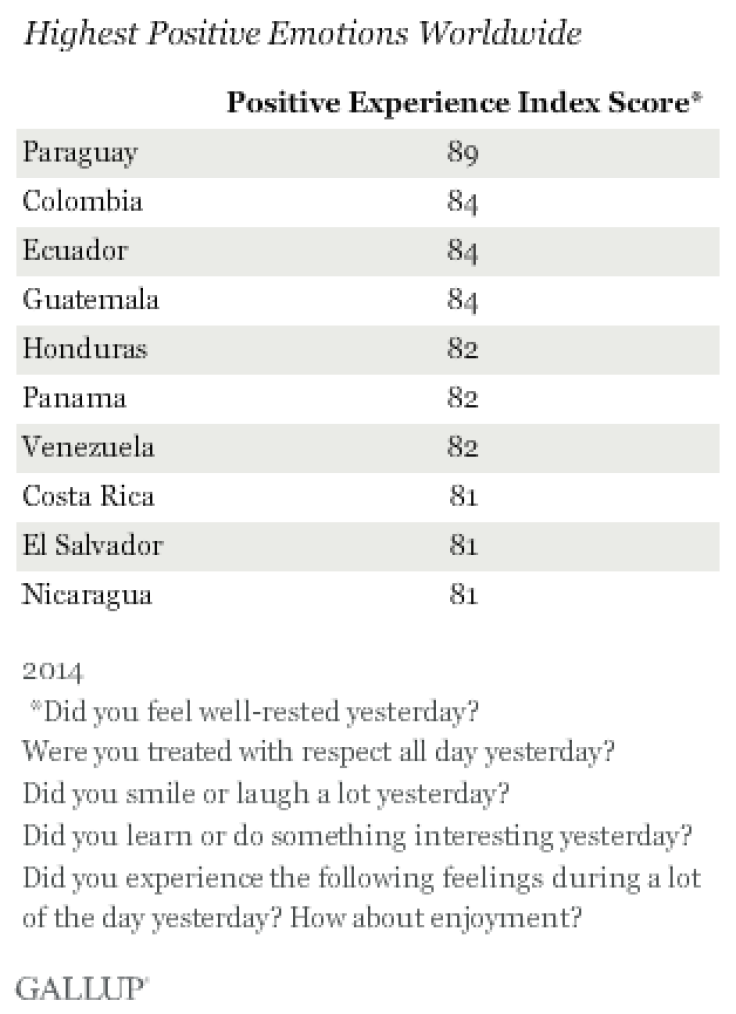 Overall, 70 percent of respondents said they experienced enjoyment, smiled or laughed, felt well-rested and said they were treated with respect. The index score for the world in 2014 was 71, and Gallup reported that the composite has "remained remarkably consistent through the years."
The data, released Friday in conjunction with the United Nations' International Day of Happiness, reveals which countries have the highest and lowest percentages of people that experience daily positive emotions.
While people in Latin American countries were most likely to experience positive emotions, the least happy people were, not surprisingly, from war-torn countries and those engaged in conflict such as Afghanistan and Sudan. Sudan, which recently split into two countries -- Sudan and South Sudan -- had the lowest score of all the countries surveyed, with 47. However, Gallup notes that the country with the lowest score last year, Syria, is absent this year because the report was issued before data from the country was finalized.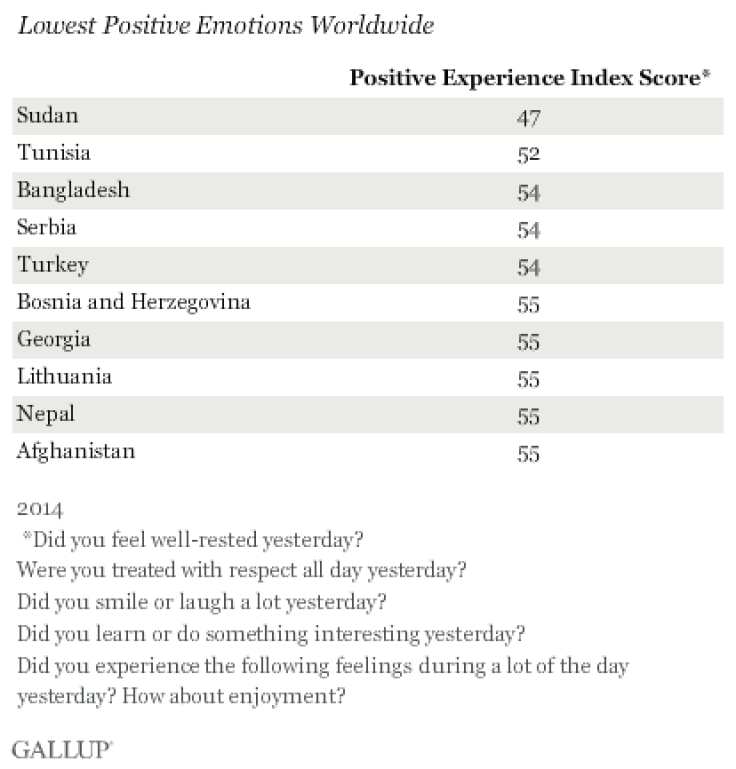 Regionally, the Middle East and North Africa (MENA) region not only ranked the lowest in positive emotions with a score of 59, but it's also the highest reporting region of negative emotions.
The results recorded by Gallup are based on 2014 phone and in-person interviews with 1,000 adults classified as age 15 and older. At the global level, the margin of error is less than one percent, according to Gallup. However, taken by individual country, each had varying degrees of margin of error, some as low as 2.1 percent, others as high as 5.3 percent.
© Copyright IBTimes 2023. All rights reserved.
FOLLOW MORE IBT NEWS ON THE BELOW CHANNELS