At least 11 killed in anti-government protests in Iraq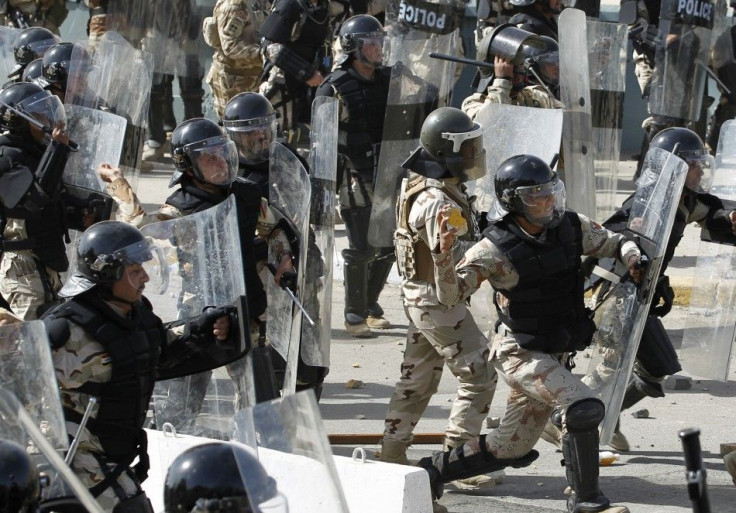 Anti-government protests in Iraq have resulted in the deaths of at least eleven people as thousands of demonstrators rallied on Friday across the country to express a day of rage.
The protesters spoke out against official corruption, unemployment and poor services, while demanding democratic reforms.
The capitol Baghdad is under lockdown, with traffic prohibited in the central districts under the watchful eyes of several thousand soldiers and riot police deployed by the state to maintain order.
Although police in Baghdad reportedly fired tear gas and beat some protesters, no deaths occurred in the city. Fatalities were recorded in the towns of Mosul, Hawija, Tikrit and Kalar.
On Thursday, Iraq's Prime Minister Nouri al-Maliki warned people not to protest and also accused the opposition organizers of being Saddam Hussein loyalists and al-Qaeda insurgents.
Nonetheless, in defiance of the military presence, protesters gathered in the central square and threw stones at the police and even attempted to knock over concrete barriers in front of the Jumhuriyah bridge, near the fortified Green Zone, where many politicians live.
Most people want to get inside the Green Zone and ask Maliki where the country's money is, a taxi driver told reporters. Is it under his bed, or did he send it to Iran to build nuclear weapons to attack Iraq?
Ayatollah Ali Sistani, a prominent Shiite religious figure, also urged people not to appear the protests. Another leading cleric and politician Muqtada Sadr, told people to give the government six months to improve public services.
Unlike demonstrators agitating for comprehensive political changes across the Arab world, the Iraqis are not demanding a change in regime.
One Iraqi student told Agence France Presse: We don't want to change the government, because we elected them, but we want them to get to work. We want them to enforce justice. We want them to fix the roads. We want them to fix the electricity. We want them to fix the water.
Another Iraqi protester told Reuters: People are hungry. We ask the government to find job opportunities for the young. All my sons are unemployed, I'm here to express the injustice that we live in."
Similar rallies took place in various other cities in Iraq – some of which reported violent clashes and burned government buildings.
© Copyright IBTimes 2023. All rights reserved.