At Least 200 Dead, 900 Injured In Massive Train Crash In Odisha, India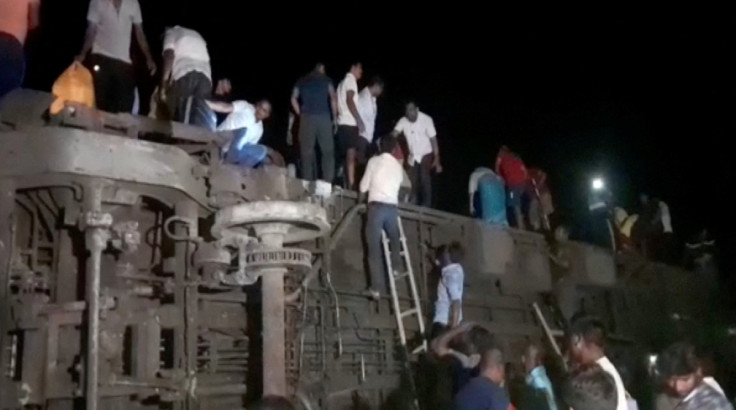 At least 200 people were killed and 900 injured when two passenger trains collided in Odisha on Friday, according to government officials in the eastern Indian state, in one of India's worst rail accidents in years.
Over 120 bodies had been recovered so far, Sudhanshu Sarangi, the director general of the fire department in Odisha, told Reuters, adding that the death toll "might go up" as rescue teams continued to search.
Some 900 people have been taken to local hospitals with injuries, with over 200 ambulances mobilized, state Chief Secretary Pradeep Jena said in a tweet.
Images from the scene showed rescuers climbing up the mangled wreck of one of the trains to find survivors.
"I was there at the site and I can see blood, broken limbs and people dying around me," an eyewitness told Reuters by phone.
Hundreds of young people lined up outside a government hospital in Odisha's Soro to donate blood.
The Coromandel Express, which runs from Kolkata to Chennai, collided with another passenger train, the Howrah Superfast Express, railway officials said on Friday evening.
The Howrah Superfast Express derailed and became entangled with the Coromandel Express, South Eastern Railway authorities said in a statement.
Odisha Chief Minister Naveen Patnaik said authorities' priority was "removing the living to the hospitals, that's our first concern, to look after the living".
Rescue operations were underway at the site and "all possible assistance" is being given to those affected, Prime Minister Narendra Modi said in a tweet.
Rescue teams have been mobilised from Odisha's Bhubaneswar and Kolkata in West Bengal, federal Minister for Railways Ashwini Vaishnaw said in a tweet.
The National Disaster Response Force, state government teams and the air force had also mobilised to respond to the incident, he added.
© Copyright Thomson Reuters 2023. All rights reserved.