LeBron James Challenges World Leaders During Bloomberg Global Business Forum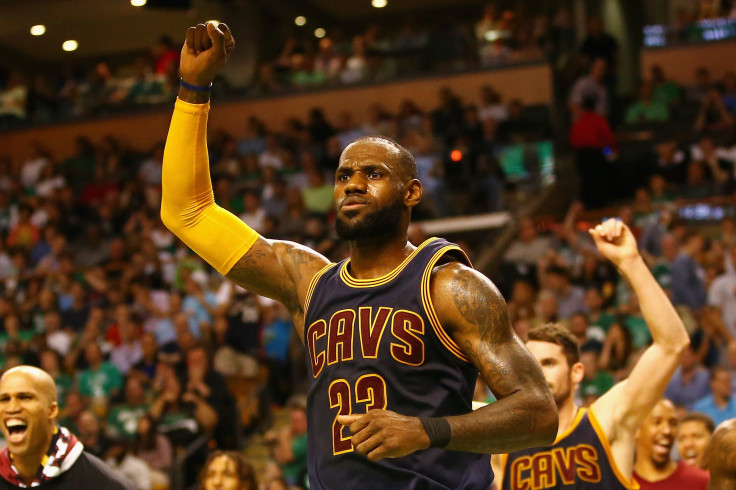 NBA superstar LeBron James kicked off the first Bloomberg Global Business Forum in New York City Wednesday by challenging world leaders to "step up."
James addressed industry leaders and titans in a video message that depicted worldwide political strife, with images of missiles launched in North Korea and climate change issues.
The Cleveland Cavaliers star didn't make any political statements but dared forum attendees to invoke change worldwide. The video address also featured messages from world leaders and statements from ordinary people.
"We all know what's happening right now, how hard it is suddenly to understand so much in this world," James said. "You're in this room for a reason, we're leaders. We all know the world needs us to step up."
The Bloomberg Forum, hosted by former New York Mayor Michael Bloomberg, gathered CEOs and leaders, who aimed to tackle some of the world's biggest economic issues. The event featured messages from guest speakers like former U.S. President Bill Clinton, French President Emmanuel Macron and Canadian Prime Minister Justin Trudeau. Pundits discussed trade, the future of globalization, and decreasing the global disruption from automation.
"This is a critical moment for the world's economy," Bloomberg said in a statement in May. "Recent events around the world have challenged the principles that have governed commerce for the past several decades. In transitional times like these, I believe business and government must work together to solve the issues affecting us all."
James is no stranger to addressing political issues and has been an outspoken advocate for equality and social justice. During last year's ESPY Awards, James, along with NBA superstars Carmelo Anthony, Chris Paul and Dwyane Wade, called for nationwide peace.
"It's time to look in the mirror and ask ourselves, 'what are we doing to create change?" James asked the crowd during the show.
The 32-year-old All-Star took to social media and shared his opinion on President Donald Trump and how he responded to the racially charged events that occurred in Charlottesville, Virginia, in August.
"Hate has always existed in America," he tweeted. "Yes we know that but Donald Trump just made it fashionable again! Statues has nothing to do with us now!"
"It's sad what's going on in Charlottesville," James added. "Is this the direction our country is heading? Make America Great Again huh?! He said that."
NBA commissioner Adam Silver and National Basketball Players Association (NBPA) executive director Michele Roberts encouraged players to speak out about social issues. The league officials penned a letter Sept. 7 that emboldened social awareness. The letter came after the NFL grappled with players like Colin Kaepernick who famously kneeled during in-game national anthems.
"None of us operates in a vacuum," the letter read. "Critical issues that affect our society also impact you directly. Fortunately, you are not only the world's greatest basketball players — you have real power to make a difference in the world, and we want you know that the Players Association and the League are always available to help you figure out the most meaningful way to make that difference.
© Copyright IBTimes 2023. All rights reserved.