LeBron James Injury Update: When Can Lakers Star Expect To Return?
LeBron James caused his team a scare when he left the Los Angeles Lakers vs. Golden State Warriors game with a groin injury but it was not too serious, according to early reports.
James fell awkwardly on the floor in the third quarter of the NBA Christmas game as he grabbed his groin and hip area while recovering. Footage later showed him appearing to mouth, "I felt a pop" as he left the game for the locker room.
He was initially deemed questionable to return to the court by the Lakers before being officially ruled out of the game. As others noted, a strained groin is what caused his counterpart Stephen Curry of the Warriors to miss three weeks of action last month.
The expected timeline for James' return depends on the specific nature of the injury, of course, but the general recovery timeline is a couple of a weeks. That would be a big blow for Los Angeles as they look to further consolidate a playoff spot.
According to Yahoo Sports reporter Chris Haynes though, it was only a slight groin strain which could mean he will have an earlier return to the court.
Lakers head coach Luke Walton revealed after the game James would be getting an MRI on Wednesday, and that the team was going into the Sacramento Kings game Thursday with the mindset that he would not play.
"We're going to prep for Sacramento as if (LeBron) is not going to play," Walton told reporters.
James hasn't ruled out playing the Kings though, as he told ESPN "the good thing is the muscle is intact." However, it ultimately depends on the MRI.
The 33-year-old left the game when the Lakers had a 71-57 lead, with just under eight minutes remaining in the third quarter. James had scored 17 points, and posted 13 rebounds and five assists at the time.
His departure coincided with the Warriors getting back into the game at Oracle Arena as a flurry of three-pointers saw them cut the lead to just three points, while Lakers fans worried about the remainder of the game.
However, the Lakers were able to rally and eventually win the game with an impressive fourth quarter showing, where they outscored the reigning champions by 17 points to get a 127-101 victory.
Rajon Rondo, in particular, stepped up with 15 points and 10 assists in just 23 minutes of action as the Lakers made it 20-14 for the season, just 2.5 games behind the Warriors who were 23-12.
And if James is back sooner rather than later, they could expect to continue their recent run of results as after a 2-5 start to the season, they now look very likely to make the playoffs as they sit in fourth place in the Western Conference.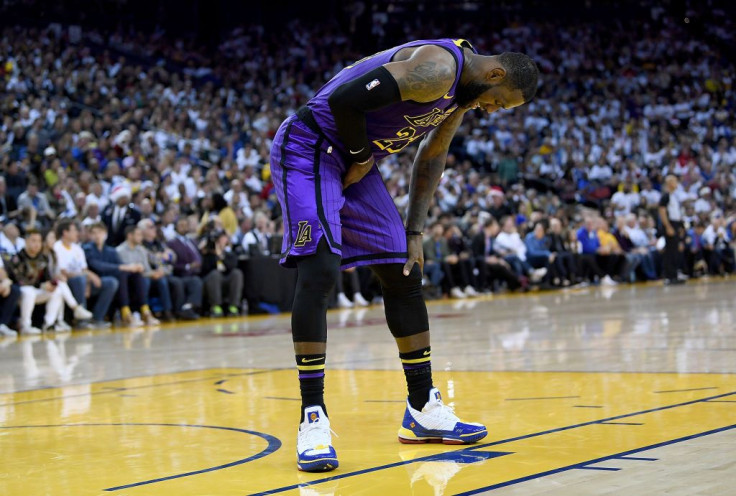 © Copyright IBTimes 2023. All rights reserved.